Deputy Assistant Secretary for Policy, Planning, and Innovation: Who Is Lynn B. Mahaffie?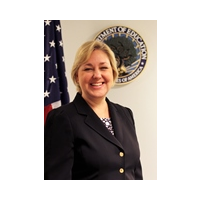 Lynn B. Mahaffie
Lynn Mahaffie has led the Office of Postsecondary Education since 2015 from her post as Deputy Assistant Secretary for Policy, Planning and Innovation in the Department of Education.
Mahaffie is from Bethesda, Maryland, where she attended Walt Whitman High School and graduated in 1983. She went to nearby George Washington University, earning a bachelor's degree in business administration in 1987, then attended University of Pennsylvania law school, graduating in 1990.
The early part of Mahaffie's career was spent working in a Washington, D.C., law firm. She joined the Education Department in 2002, first as director of the Teacher and Student Development Programs Service. In 2010, she was named chief of staff for higher education programs, and acted as deputy assistant secretary of that office for about a year.
Mahaffie was named senior director of the Policy Coordination, Development and Accreditation Service in October 2011. During her tenure, she served as acting deputy assistant secretary for higher education programs at Policy Planning and Innovation from 2013 to 2014, and acting assistant secretary for postsecondary education from 2014 into 2015.
Mahaffie has been forced to defend her office's role in overseeing the accreditation of some failing institutions, such as for-profit colleges that have gone bankrupt. She also helped roll out an expansion of the Clery Act, which mandates that crimes related to sexual assault be reported by institutions of higher education that receive federal funding.
Mahaffie is married and has two daughters.
-Steve Straehley
To Learn More: