Director of the Office of English Language Acquisition: Who Is Libia Gil?
Thursday, January 12, 2017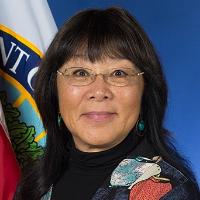 Libia Gil
Libia Gil, who was appointed September 9, 2013, to take over the Office of English Language Acquisition, is certainly an expert on the subject; English is the third language for the long-time educator.
Gil spent her early childhood in Costa Rica, where her father Jose is from, then moved to Hong Kong and subsequently Taiwan. Her mother Phoebe is from China. One of five children, Gil received her initial education in English at a Catholic school in Taiwan before coming to the United States as a teenager. Although she was by no means fluent in English, she did the translating for her parents after their move.
Gil earned a B.A. and an M.A. from Cal State Los Angeles and started her career as a classroom teacher in the Los Angeles Unified School District in 1970. She left there in 1972 and became a bilingual resource specialist for the ABC Unified School District in suburban Los Angeles. She subsequently became bilingual-ESL (English as a Second Language) coordinator, desegregation officer and an elementary school principal in the district.
Gil then moved on to the Seattle Public Schools, where she was assistant superintendent for curriculum and instruction. While there, she earned her Ph.D. at the University of Washington in 1989. In 1993, Gil was named superintendent of the Chula Vista Public Schools, near San Diego. There, she started dual language educational programs in English and Spanish in the district with a large Hispanic population.
Gil left Chula Vista in 2002 and undertook work in bilingual education at New American Schools, a non-profit research group that promoted designing educational programs from scratch and helped install them in public schools. In 2003, Gil was among those vying to be Seattle's school superintendent, but took herself out of the running before the position was filled. New American Schools merged in 2005 with the American Institutes for Research, where Gil, as the organization's managing director, developed the AIR Center for English Learners. Gil moved to the Collaborative for Academic, Social and Emotional Learning in Chicago in 2011, becoming their vice president for practice. She held that position until joining the Department of Education.
Gil has three daughters.
-Steve Straehley
To Learn More:
Libia Gil: My Parents Provided Limitless Possibilities through Education (by Libia Gil, Homeroom—Department of Education)