Director of the Defense Logistics Agency: Who Is Andrew Busch?
Tuesday, January 10, 2017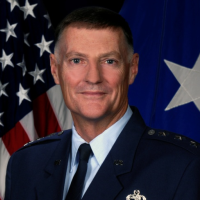 Andrew Busch
Lt. Gen. Andrew Busch, who served in logistics management positions for much of his career in the Air Force, was named in December 2014 to lead the Defense Logistics Agency (DLA).
Busch grew up in different places around the world, including five years in Saudi Arabia, while his father worked for airlines. Busch was recruited to the Air Force Academy to play basketball—at 6-foot-10, he was the Falcons' center—and graduated from there with a B.S. degree in 1979. He later earned an M.S. in logistics management from the Air Force Institute of Technology in 1990 and an M.S. in national resource strategy in 1995 at the Industrial College of the Armed Forces.
Busch started his career as an aircraft maintenance officer, took a few years off beginning in 1983 to teach ROTC at Michigan Tech, then returned to aircraft maintenance management.
After earning his second master's degree in 1995, Busch moved into logistics. His next assignments were at the Defense Logistics Agency; Ogden Air Logistics Center at Hill AFB, Utah; and at the Propulsion Management Center at Tinker AFB, Oklahoma.
In 2002, Busch was named Deputy Director for Logistics Operations in the Directorate of Logistics and Sustainment at Wright-Patterson AFB in Ohio. Three years later, Busch was made Commander of the 402nd Maintenance Wing at Robins AFB in Georgia and in 2007 was named Commander of the Defense Supply Center in Richmond, Virginia.
Busch returned to the Ogden Air Logistics Center as its commander in 2009 and was back at Wright-Patterson in 2012 as vice commander of the Air Force Materiel Command. He held that post until being made chief of DLA.
Busch and his wife Tomi have two daughters. Both followed in their father's footsteps— into the family business as well as collegiate sports. Daughter Jillian played basketball at West Point, and daughter Alyson did so at the Air Force Academy.
-Steve Straehley
To Learn More: