Thousands of At-Risk Afghan Translators Who Aided U.S. Military Must Rely on Trump for Visas for U.S. Sanctuary
Saturday, December 10, 2016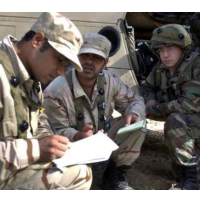 Afghan translators working with U.S. troops (photo: Getty)
By Emmarie Huetteman, New York Times
WASHINGTON — After a protracted political debate, Congress passed a measure Thursday that would offer sanctuary to a fraction of the Afghan interpreters and translators who have risked their lives to help the military.
The measure, included in an annual military policy bill, renews the nearly 9-year-old visa program for Afghans facing serious threats because they assisted U.S. troops. The Senate passed the broader, $619 billion legislation, 92-7, sending it to President Barack Obama for his signature.
But the renewal added just 1,500 extra visas, not nearly enough to cover the approximately 13,000 pending applications, and it imposes more eligibility restrictions on an already complicated process.
Last summer, a handful of Republican lawmakers disrupted what has become a somewhat regular allocation of visas to the program, questioning the cost of the 4,000 additional visas requested by the Obama administration this year and, in one case, tying them up procedurally to force consideration of unrelated legislation.
Now, the fate of the visa program will hinge on a government led by President-elect Donald Trump, who has yet to say how he will handle an issue that is championed by the military but would also bring more Muslim immigrants to the United States.
It was a relatively subdued conclusion for the broader bill, known as the National Defense Authorization Act, which set off bitter disputes this year about workplace protections for gay men and lesbians employed by federal contractors, and about efforts to restrict the Confederate flag. It also prompted a debate about whether women should be required to register for the draft, a measure that was ultimately cut from the final bill.
Republicans trumpeted in particular the fact that the bill would offer troops their largest pay increase since 2010, a raise of 2.1 percent, as well as an overhaul of the troubled health care system for veterans. The legislation will also make changes to the acquisitions office at the Pentagon, splitting it into two to separate its more cutting-edge research work from daily tasks such as managing contracts.
Democrats expressed some reservations about the legislation, which totaled more than $3 billion more than Obama's budget request. While officials have not yet said whether Obama will sign it, Eric Schultz, a White House spokesman, recently told reporters there were parts of the legislation that were "encouraging."
To Learn More:
Fresno and San Diego Republicans Rally Around Trump and His Anti-Muslim Policies (by Ken Broder, AllGov California)
Afghan Interpreters Who Helped U.S. Troops Face Visa Denials (by (by Noel Brinkerhoff, AllGov)
Wounded in Iraq, Contract Translators Battle Insurance Companies (by Noel Brinkerhoff, AllGov)
Afghan Translator Blown Up and Then Fired (by Noel Brinkerhoff, AllGov)