Rollout of Fake News Traced to Money-Hungry Teens in Macedonia Town
Monday, December 05, 2016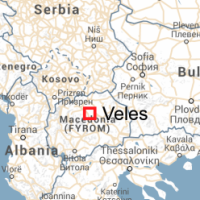 (graphic: Google)
By Zana Cimili and Raphael Satter, Associated Press
VELES, Macedonia — On the second floor of a noisy sports center in the Macedonian town of Veles, a teenage purveyor of fake news cracked open his laptop and laid out his case for why lying is more lucrative than the truth.
Real news gets reported everywhere, he argued. Made-up stories are unique.
"The fake news is the good news," the 18-year-old said, pointing to a graph showing his audience figures, which reached into the hundreds of thousands, a bling watch clasped firmly around his wrist. "A fake news article is way more opened than any other."
As President Barack Obama, Facebook founder Mark Zuckerberg, journalists and academics argue over the impact of social media-driven propaganda on the latest American election, this sleepy former manufacturing town overlooking the Vardar River in central Macedonia has found itself increasingly drawn into the debate.
BuzzFeed News identified Veles as a hub of the fake news industry seeding sensationalized or falsified information across Facebook. A reporter from Britain's Channel 4 News chased the industry's adolescent kingpins across town, cornering one 16-year-old fake news baron who said he had no plans to stop — even though he acknowledged it was wrong.
But there were no such qualms from the teenager who spoke to The Associated Press at Veles' Gemdidzii Sports Hall.
Retreating from a spirited indoor soccer game into an empty office, he walked an AP journalist through the ins-and-outs of his fake news operation on condition that neither he nor his stable of bogus news sites would be identified, because otherwise that would hurt his business.
He showed the AP how he ripped much of his material off The Political Insider, a right-wing news site that produces a steady drumbeat of pro-Donald Trump pieces. He then flipped over to Google Analytics, an audience tracking tool, to show that he'd managed to gather more than 685,000 page views a week.
The teen said his monthly revenue was in the four figures, a considerable sum in a country where the average monthly pay is 360 euros ($383). As he navigated his site's statistics, he dropped nuggets of journalism advice.
"You have to write what people want to see, not what you want to show," he said, scrolling through The Political Insider's stories as a large banner read "ARREST HILLARY NOW."
Using the web intelligence service Domain Tools, the AP confirmed that the teen is behind more than a dozen different websites, including knockoffs of well-known U.S. media outlets. Typical headlines include "Wow! Queen Elizabeth Invited Trump — This Is A Game Changer" or "BREAKING: What George Soros Just Did Will Leave You SICK!" Both pieces carried untrue or questionable assertions.
A simple Domain Tools search revealed roughly 200 U.S.-oriented news websites registered in Veles, most created within the last 12 months.
These sites tend to follow one of two patterns: Some masquerade as well-known outlets like The New York Times or Fox News, while others operate under made-in-America-sounding names like USA Daily News 24. That latter site's lead story — "Michelle Obama DEMANDS Americans PAY UP To Give Her Mom A Cushy $160k Pension" — is entirely false.
A message seeking comment from USA Daily News 24's administrator, Goran Trajkov, was not immediately returned.
Most of the sites appear fueled by plagiarism. Stories are cribbed from blogs, conspiracy sites and fake news outlets, and reposted across social media.
For the residents of Veles, a Macedonian rust belt town of 50,000 people with shuttered factories and high unemployment, the thousands of dollars brought in by fake news operations aren't necessarily unwelcome.
"They see it in a positive way," said local journalist Petar Peckov. "They say, 'The boys are working. There is money and we will benefit from it.'"
For everyone else on Facebook, Veles' new cottage industry means a bewildering assault of misinformation and propaganda.
"Telling real from fake is difficult when people are intentionally trying to mask this from you," said Robyn Caplan, a researcher at Data & Society, a New York-based institute that studies the cultural impact of technological change.
"The headlines that this Macedonian guy was using would have, could have been found a few years ago on something like — not in the same political sentiment — on Upworthy or on Elite Daily" she said in a telephone interview, referring to two websites that pioneered the viral news phenomenon. "They're building off of practices that people have become really used to."
The Macedonian teenager says he's indifferent to politics. He sees it all as a money-making scheme, as well as a preparation for his career after high school, where he has been studying marketing and politics.
Shrugging off the handwringing over the ethics of fake news, he said the onus was on readers.
"They can read it if they want to," he said. "I'm not the one pushing them to click on the article."
Barry Hatton in Lisbon, Portugal, contributed to this report.
To Learn More:
Facebook at Center of Debate over Influence of Fake News on Election (by Barbara Ortutay, Associated Press)
U.S. Presidential Election Further Exposes Great Divide between Online and Mainstream Media (by John Herrman, New York Times)
Rise in Social Media's Power Reveals Growing Threat to Democracy: Fake News (by Jim Rutenberg, New York Times)
Truth Viewed as Victim, Not Beneficiary, of the Internet (by Farhad Manjoo, New York Times)