Protests Erupt Over Naming of Sexy U.S. Comic Book Character as U.N. Ambassador for Female Empowerment
Saturday, October 22, 2016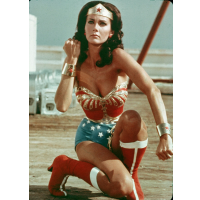 TV's Wonder Woman as portrayed by Lynda Carter (photo: Warner Bros/Getty Images)
By Somini Sengupta, New York Times
Though a founding member of the Justice League, Wonder Woman is receiving pushback inside the United Nations.
More than 600 U.N. staff members have signed an online petition calling on Secretary-General Ban Ki-moon, a professed feminist, to reconsider the appointment of the fictitious superhero as its ambassador for women's empowerment.
The petition says "a large-breasted white woman of impossible proportions, scantily clad in a shimmery, thigh-baring body suit with an American flag motif and knee-high boots" is not an appropriate spokeswoman for gender equity at the United Nations.
Privately, several U.N. officials have expressed concern about the choice of a comic-book character. Publicly, its leaders have described the decision as a creative way to reach younger audiences, in advance of a new Hollywood film starring Gal Gadot as Wonder Woman. Whether a character who is even older than the United Nations will appeal to the young — she soon turns 75, about four years older than the world body — remains uncertain. The heroine's appointment ceremony will proceed, as scheduled, on Friday. A silent protest is expected.
Women's advocates inside and outside the United Nations say the selection of Wonder Woman is particularly ill timed because the U.N. this month rejected seven female candidates for secretary-general. The next leader will be António Guterres of Portugal, even though many had hoped a woman would take the helm for the first time.
Raimonda Murmokaite, the permanent representative of Lithuania, reacted to the news of Wonder Woman's appointment by asking on Twitter why "real life women" could not be selected.
Anne Marie Goetz, an academic and a former adviser to the United Nations who had campaigned for a woman to be secretary general, called the choice "disgusting" and wrote on Twitter that Wonder Woman should use her "lasso of truth" to expose the United Nations' "hypocrisy."
Stéphane Dujarric, a U.N. spokesman, said Thursday that leaders of the organization had listened to the concerns of U.N. staff members and even changed the public campaign around Wonder Woman to reflect those concerns and "bring a celebration of real-life women and girls making a difference every day into the core messaging."
"We work and engage with amazing women around the world every day and have many strong, real-life women who advocate on behalf of the U.N. for rights of women," Dujarric said. "These include Alaa Murabit of Libya, Leymah Gbowee of Liberia, the Brazilian soccer player Marta, and Angelina Jolie, to name just a few."
The petition appears to have been started by an anonymous U.N. staff member perhaps concerned about his or her job, and many signatories are anonymous.
"The message the United Nations is sending to the world with this appointment is extremely disappointing," the petition reads. "The bottom line appears to be that the United Nations was unable to find a real-life woman that would be able to champion the rights of ALL women on the issue of gender equality and the fight for their empowerment. The United Nations has decided that Wonder Woman is the role model that women and girls all around the world should look up to."