Big New York Law Firms Add Few Women and Minorities to Their Ranks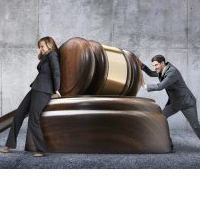 (graphic: Getty Images)
By Elizabeth Olson, New York Times
NEW YORK — Large New York City law firms, the economic engine of the $1 billion-plus legal industry, have made scant progress on including women and minorities in their ranks, according to a confidential survey (pdf) by the New York City Bar Association.
"Progress remains incremental," John S. Kiernan, president of the association, said of the survey, "and attrition and pipeline numbers are not where they should be."
The law firms, mostly those with 51 to 500 or more lawyers, were required by the association for the first time this year to complete a benchmarking survey to give a better picture of law firm composition. For the first time, the survey collected the breakdown in lawyers by gender and ethnicity rather than by the term "minority attorney."
Seventy-five firms — around 70 percent of the signatories who committed to the bar's statement of diversity principles — responded to the survey. That was up from 55 firms who replied last year.
The firms are noteworthy because they are among the nation's most profitable, generating tens of millions of dollars in revenue from complex legal matters involving the country's biggest corporations. The data was aggregated, so no specific firms were named, but signers include august firms like Akin Gump Strauss Hauer & Feld, Cleary Gottlieb Steen & Hamilton, Kirkland & Ellis, and Wachtell Lipton Rosen & Katz.
According to the 2015 Diversity Benchmarking Report, women make up 19 percent of such firms' partners, a slight increase over the previous year and a high overall since the survey began in 2004.
But there were fewer women working as associates — junior lawyers who seek to rise through the ranks to become partners. And minority women make up only 15 percent of all female partners at signatory firms, and less than 3 percent partners overall.
Minorities overall had flat representation even as a growing number of large firms have hired diversity directors to recruit and vet a wider array of candidates. Last week, three major firms — Reed Smith, Hogan Lovells and Day Pitney — announced they had each hired top diversity staff.
Even so, firm partnerships overall remain more than 75 percent white male, with women far behind at less than 20 percent and minorities at slightly over 5 percent, according to figures from the National Association for Law Placement, which tracks legal industry statistics.
To Learn More:
Diversity Benchmarking Report 2015 (New York City Bar Association) (pdf)
Women of Color Make up 1/3 of Working Women, but less than ½ of One Percent of S&P 500 CEOs (by Noel Brinkerhoff, AllGov)
U.S. Trails Allies in Percentage of Women on Corporate Boards (by Noel Brinkerhoff, AllGov)
1% of Lawyers Filing Appeals to Supreme Court Account for 43% of Accepted Cases; Most Represent Corporations (by Noel Brinkerhoff, AllGov)