U.S. Ambassador to Greece: Who Is Geoffrey Pyatt?
Sunday, September 18, 2016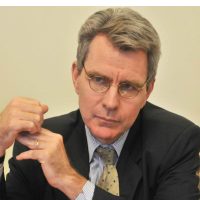 Geoffrey Pyatt
Geoffrey Pyatt, whose tenure as ambassador to Ukraine included a Russian invasion of the country and a leaked sensitive phone conversation between Pyatt and a State Department official, was confirmed July 14, 2016, as ambassador to Greece.
Born in 1963, Geoffrey Ross Pyatt grew up in the San Diego suburb of La Jolla, California, and earned a B.A. in Political Science at the University of California at Irvine in 1985, and an M.A. in International Relations at Yale in 1987.
Prior to joining the Foreign Service in 1990, Pyatt worked with The Inter-American Dialogue, a Washington-based think tank. At the State Department, Pyatt's early career assignments included stints as economic officer and vice-consul at the U.S. embassy in Tegucigalpa, Honduras, from 1990 to 1992; political officer at the embassy in New Delhi, India, from 1992 to 1994; staff assistant to the assistant secretary of state for Latin America in 1994; special assistant to the deputy secretary of state from 1995 to 1996, and director for Latin America on the National Security Council staff from 1996 to 1997.
Pyatt served as principal officer of the American consulate in Lahore, Pakistan, from 1997 to 1999, followed by service as American consulate general in Hong Kong from 1999 to 2002. Returning to India, from 2002 to 2007 Pyatt served at the embassy in New Delhi, first as minister counselor for political affairs and as deputy chief of mission from June 2006 to July 2007.
When WikiLeaks published State Department cables, Pyatt became embroiled in controversy because of a May 4, 2007, cable he sent recommending that K.V. Rajan, a secretary in India's Ministry of External Affairs and a member of the Prime Minister's National Security Advisory Board (NSAB) visit Washington D.C. in order to help "feed" U.S. government views on Iran into the Indian system.
For his first European posting, Pyatt served as deputy chief of mission at the U.S. mission to the International Atomic Energy Agency and other international organizations in Vienna, Austria, from August 2007 to May 2010. He was subsequently named principal deputy assistant secretary of the South and Central Asia Affairs Bureau.
Pyatt became U.S. ambassador to Ukraine in July, 2013. In February, 2014, as tensions increased between Ukraine and Russia, Pyatt discussed the situation with Assistant Secretary of State Victoria Nuland. During the conversation, which was later posted on YouTube, Nuland said "Fuck the EU." The State Department never actually admitted that the conversation happened, but said Nuland had made apologies to EU governments.
In March, 2014, Russia invaded Ukraine and annexed Crimea. Since then Pyatt has helped coordinate the U.S. response to the action.
Pyatt speaks fluent Spanish. He and his wife Mary (née Detchmendy) have two children, William and Claire.
-Matt Bewig and Steve Straehley
Certificate of Demonstrated Competence
Obama Nominates Candidate for New U.S. Ambassador to Ukraine (by Interfax-Ukraine, Kyiv Post)
Ukraine Crisis: Leaked Phone Call Embarrasses U.S. (BBC News)