U.S. Ambassador to Laos: Who Is Rena Bitter?
Saturday, September 17, 2016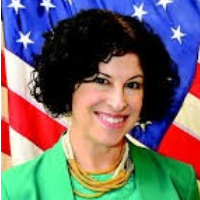 Rena Bitter
Rena Bitter, a career member of the Foreign Service, was nominated on May 19, 2016, to be Ambassador to Laos. If she's confirmed, it will be her first such post.
Bitter is a native of Dallas, one of three children of Frieda and Herb Bitter. She graduated from Hillcrest High in Dallas in 1982 and went on to Northwestern University, earning a B.S. in speech in 1986. Bitter returned to Dallas and attended law school at Southern Methodist University, earning her J.D. in 1991. She joined the State Department in 1994.
Her first assignment was as consular officer/staff assistant at the embassy in Mexico City. She remained in Latin America for her next posting, beginning in 1997, as political/economic officer in Bogota, Colombia. Bitter returned to Washington in 1999 to work in the department's operations center. The following year, she joined the staff of the Executive Secretariat and in 2001 was made a special assistant in the office of Secretary of State Colin Powell.
Bitter went to London in 2002, first as a Transatlantic Diplomatic Fellow, and the following year as Chief of the Nonimmigrant Visa Unit at the U.S. embassy there. In 2006, she was sent to Amman, Jordan as Consular Section Chief.
Bitter returned to Washington in 2009 as Deputy Director of the U.S. State Department Operations Center and became Director the following year. That put her in charge as the WikiLeaks papers were being released, and Bitter was one of the officials charged with trying to mitigate the damage caused by them.
Bitter was named Consul General in Ho Chi Minh City, Vietnam, in 2013, a post she continues to hold pending the outcome of her Laos ambassadorship nomination.
Bitter speaks Spanish, Arabic and Vietnamese.
-Steve Straehley
To Learn More: