Uranium Firm to Fix Leaks onto Utah Highway of Radioactive Sludge Used to Make Yellowcake
Thursday, September 01, 2016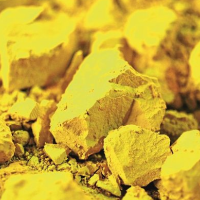 Yellowcake from processed uranium (photo: Daniel Acker, Bloomberg/Getty Images)
By Mead Gruver, Associated Press
CHEYENNE, Wyo. (AP) — A uranium mining company has agreed to corrective measures after two spills of radioactive sludge, the most recent on March 29 when some of the material from a Wyoming mine leaked from a truck onto a highway, the Nuclear Regulatory Commission said Wednesday.
The low-level radioactive sludge leaked onto U.S. 191 outside a radioactive waste disposal facility in Utah, the NRC said in a letter Tuesday to Brent Berg, the president of mine owner Cameco.
The company isn't aware of any danger to the environment or people, Cameco spokesman Kenneth Vaughn said Wednesday.
Besides failing to prevent the spill, Saskatchewan-based Cameco failed to accurately determine the amount of radioactive material in the sludge and adequately document the material in shipping papers, according to the NRC.
Cameco said it has agreed to halt shipping barium sulfate sludge without NRC approval, identify specifically what caused the two spills, report on all sludge shipments to the disposal facility in Blanding, Utah, over the past three years and develop a plan to correct the problem.
A similar leak happened last summer. The white, paste-like sludge is a normal byproduct of in-situ uranium mining, a process that involves pumping water mixed with oxygen and baking soda into uranium-bearing sandstone deposits underground and pumping a solution containing uranium to the surface.
The solution is processed into yellowcake, which can be processed further into nuclear fuel.
Cameco has suspended sludge shipments from its mine while investigating how to prevent another leak, Vaughn said.
The company ships the material by truck for disposal every six months. Last year's leak happened at the bottom of the 15.5-foot-long shipment container and this year's happened at a lid at the top, Vaughn said.
"We are investigating all ways we can ensure this does not happen again," Vaughn said.
Ryan Johnson with the Utah Department of Environmental Quality said where along the truck's route through Wyoming, Colorado and Utah the leak began is unknown.
Testing with radiation monitors at places where the truck likely stopped or turned showed no sign of leakage less than a week after this year's spill, Vaughn said.
Workers washed the white, paste-like material that spilled onto U.S. 191 off the pavement and removed 5 yards to 6 yards of potentially contaminated soil, according to a report by Colorado-based Energy Fuels Resources, owner of the White Mesa Mill.
Wyoming is home to four of the nation's six operational in-situ uranium mines and is the top uranium-producing state. Smith Ranch-Highland, capable of producing up to 5.5 million pounds of uranium hexafluoride annually, is the biggest in-situ uranium mine by production volume in the U.S.
To Learn More:
Canadian Company to Defy Ban on Uranium Mining Near Grand Canyon (by Matt Bewig, AllGov)
Talk about Toxic Assets… (by Noel Brinkerhoff, AllGov)