Another Federal Court Rules against Release of Senate Report on CIA Torture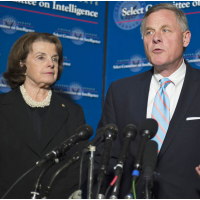 Sens. Dianne Feinstein and Richard Burr (photo: Jim Watson, AFP/Getty Images)
By Jack Bouboushian, Courthouse News Service
(CN) — Keeping a nearly 7,000-page Senate report on the CIA's use of torture under wraps, the D.C. Circuit said Congress clearly intended for a controlled release of the report.
The 6,963-page "Final Full Report" by the Senate Select Committee on Intelligence (SSCI) has been in a quasi-limbo since Republicans took control of Congress at the beginning of 2015.
When the Democrats still controlled the Senate in December 2014, committee chairwoman Dianne Feinstein sent a copy of the full report to President Barack Obama, with a letter encouraging the president to use the full report in future development of CIA programs.
Feinstein chose not to seek declassification of the full committee study at that time, however, and the committee's new chairman, Sen. Richard Burr, R-N.C., has since demanded that Obama to return all copies of the Final Full Report immediately.
Burr claimed in his letter that he was unaware copies of the report had been sent to the executive branch. He also allegedly requested that the full report "not be entered into any Executive Branch system of records," which would make it a public record.
Only a 480-page executive summary and 20 conclusions have been publicly released.
The American Civil Liberties Union filed a federal action in Washington to have the report fully released under the Freedom of Information Act.
But a federal judge sided with the government last year, and the D.C. Circuit affirmed Friday that the report is not subject to public disclosure.
The panel based its decision, in large part, on a June 2009 agreement between the Senate Committee and CIA to grant Senate staff members access to classified materials with the understanding that all documents would remain classified.
"The June 2009 letter manifests a clear intent by the Senate Committee to maintain continuous control over its work product, which includes the full report," Judge Harry Edwards said, writing for the three-judge panel. "Therefore, the full report always has been a congressional document subject to the control of the Senate Committee. The mere transmission of the Full Report to agency officials for their consideration and use within the Executive Branch did not vitiate the command of the June 2009 Letter or constitute congressional relinquishment of control over the document."
The Senate Committee could have released the entire report, the panel said, but decided to publicly release only the executive summary, indicating its intent to keep the rest of the report under wraps.
Senator Feinstein's letter to President Obama inviting him to use the full report for internal purposes, "does not vitiate Congress' existing, clearly expressed intent to maintain control of the full report," Edwards concluded.
To Learn More:
Judge Who Blocked Release of Osama bin Laden Death Photos Now Blocks Release of Senate Torture Report (by Noel Brinkerhoff and Steve Straehley, AllGov)
New Republican Senate Intelligence Chairman Wants to Bury CIA Torture Reports (by Noel Brinkerhoff and Steve Straehley, AllGov)