Freezing of Tax Refunds on Pre-Paid Debit Cards Disrupts Finances of Thousands of Americans
Wednesday, March 09, 2016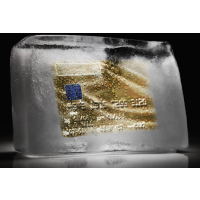 (photo: Getty Images)
By Ken Sweet and Sarah Skidmore Sell, AP Business Writers
PHOENIX (AP) — Thousands of people have had their prepaid debit cards frozen when they try to direct their tax refund to their accounts, a result of financial industry efforts to combat an escalation in tax fraud.
It's keeping people from their money, and delaying access to much-anticipated tax refunds. People who rely on prepaid debit card accounts are often poorer Americans who don't have traditional bank accounts.
Shannon King had her money frozen for two weeks. She had planned to use it for car repairs and to help pay for a move, both of which then had to be delayed. "It was very frustrating," King said.
King has a Wal-Mart MoneyCard, which is run by Green Dot. She said after her refund was deposited, Green Dot froze the card and asked her to send a picture of her Tennessee state identification card to verify the account. The process to release the money took more than two weeks, she had to submit photos of her ID a number of times — Green Dot said they weren't readable — and she says she spent hours on the phone with customer service agents to resolve the problem.
The Associated Press reviewed documents sent to Green Dot by King, including her ID picture, and they appeared clear.
Prepaid debit card companies Green Dot, NetSpend and others say the problems are the result of tighter fraud protection measures. Both Green Dot and Wal-Mart have apologized, but emphasized the measures were there to protect their customers.
"We're working with the company to ensure that any customer service issues are resolved as quickly as possible," a spokeswoman for Wal-Mart said.
The card companies, along with the IRS, are trying to stem a tide of tax fraud by identity thieves. Criminals file bogus tax returns using other people's identities, claim a refund and collect the money. Many people do not know they are a victim until they try to file a legitimate return and are unable to.
The fraudsters often use prepaid debit cards to pull off their scams because the accounts can be relatively anonymous.
For example, in 2012 a Miami man was sentenced to five years in prison and three additional years of probation for filing nearly 500 fraudulent tax returns. Instead of having the refunds deposited in a bank or mailed, he had them electronically deposited to prepaid debit cards, including Green Dot, and gift cards. When he was arrested, prosecutors say the man had 11 Wal-Mart money cards loaded with more than $32,000 from fraudulent returns.
Tax and wage-related fraud was the most common form of identity theft reported to the FTC in 2015. It's on the rise — about 45 percent of the identity theft complaints to the FTC last year were tax or wage-related, up from 33 percent in 2014 and 30 percent in 2013.
The IRS says tax-related identity theft is one of its biggest challenges. In 2015, it stopped 1.4 million confirmed identity theft returns, totaling $8.7 billion. For criminals, the IRS makes for a quick, easy score: the IRS processes most returns in less than 21 days, and the average refund was $2,797 last year.
To combat the problem, the IRS held a security summit last year with states and tax-industry representatives to find ways to solve the problem together. As a result, efforts to fight fraud have intensified this year and banks and other prepaid debit card companies are tightening their protections.
The IRS and other industry representatives would not say if account delays or freezes were requested or required. But the IRS did say that it is working with banks and debit card issuers to obtain information that would be helpful in detecting and preventing fraud.
Green Dot estimates that 9,000 customers have had their accounts blocked this season, representing 0.2 percent of their customers. NetSpend, the second largest issuer, said they also have been freezing accounts, but declined to give a number impacted. American Express, which issues a prepaid debit card known as American Express Serve, also said it has been stepping up fraud protection measures.
A spokeswoman with American Express said customers can minimize the chances of being flagged for fraud by making sure their personal identification information on the account matches the information on their tax forms. And Jackson Hewitt, which uses American Express cards for its customers, requires two forms of ID to receive a prepaid bank product to help cut down on fraud.
While their intentions are good, the industry's efforts still are somewhat frustrating for people like King.
"I understand the reasons, but it shouldn't have taken two weeks," she said.
Sarah Skidmore Sell contributed to this report from Portland, Oregon.
To Learn More:
Banks Use Payroll Card System to Suck Money from Low-Wage Workers (by Noel Brinkerhoff and David Wallechinsky, AllGov)
Homeland Security to begin Scanning Prepaid Payment Cards of Arriving Travelers (by Noel Brinkerhoff, AllGov)
Pre-Paid Debit Cards: Beware of Hidden Fees (by Noel Brinkerhoff, AllGov)