Arizona Legislators Say Atheist's Prayer Not Good Enough; Bring in Baptist Pastor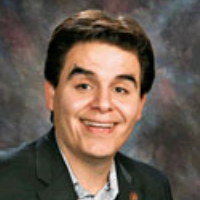 Arizona Rep. Juan Mendez (D)
By Bob Christie, Associated Press
PHOENIX — An atheist member of the Arizona House denied the chance to deliver the chamber's opening prayer by majority Republican leaders last month got the opportunity Thursday, only to see leaders rule his prayer didn't pass muster and call up a Christian pastor.
The opening prayer by Democrat Juan Mendez included a call to work to help the state and its residents flourish and to "honor the Constitution and the secular equality it brings." But he didn't pray to any deity, which infuriated some Republicans who are Christians.
Mendez said before the session that he had been invited to deliver the opening prayer by majority Republican leaders and that he didn't plan to invoke God.
After his prayer, House Majority Leader Steve Montenegro said Mendez's decision not to pray to God didn't meet House rules he issued earlier this year for the opening prayer. Speaker David Gowan then said "point of order well taken" and called on a Baptist minister on hand in an apparently planned response.
"At least let one voice today say thank you, God bless you," the Rev. Mark Mucklow said in closing.
The minister's invocation was followed by sharp comments from several Republicans who took issue with Mendez's prayer.
Rep. Warren Peterson (R-Gilbert) said prayers have been part of legislative meetings "since the founding of this great country."
"You know what it looks like, you know what it is, it has a long-standing tradition," Peterson said. "We also know what it looks like when somebody is desecrating and mocking someone else's beliefs."
Several other Republicans also stood up object to the atheist prayer, including Oro Valley Rep. Mark Finchem.
"I'm saddened and offended that a member of this body would knowingly disregard our call for prayer and our House rules," Finchem said.
Mendez didn't respond to the comments, but assistant Democratic leader Rep. Bruce Wheeler did.
"Rep. Mendez was respectful — some people didn't happen to like what he said, and so be it," Wheeler said. "As a representative of his constituents he has a right to speak. And with that I just hope we can calm down a little bit and not make this into a bigger deal that is really is."
The dust-up is the latest in Arizona regarding prayer in public meetings.
The Phoenix City Council voted Wednesday to restore a tradition of spoken prayer before meetings after cancelling them last month because a group with the word "Satan" signed up to present the invocation. The opening prayers will now only be given by police or fire department chaplains.
To Learn More:
Christian Prayers at City Council Meetings Supported by Obama Administration before Supreme Court (by Noel Brinkerhoff, AllGov)
U.S. Supreme Court Allows Sectarian Prayers at Government Meetings (by Noel Brinkerhoff and Danny Biederman, AllGov)
Federal Ban on School Prayer Widely Ignored (by Noel Brinkerhoff, AllGov)