U.S. Ambassador to Uganda: Who Is Deborah Malac?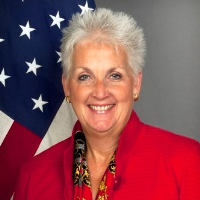 Deborah Malac
Deborah Malac, who currently serves as the ambassador to Liberia, was confirmed by the U.S. Senate on Nov. 19, 2015 to be the U.S. ambassador to Uganda.
Malac has spent her entire working life at the State Department. She joined it in 1981 after earning a B.A. in international studies from Furman University in 1977 and an M.A. in foreign affairs from the University of Virginia in 1981.
Malac has spent the bulk of her career concentrating on Africa and its issues. Her early postings included serving as desk officer for Laos and for South Africa, as Consular and Political Officer in Pretoria and Bangkok, and as Consular and Economic officer in Yaoundé, Cameroon. Her one non-African posting was in Thailand.
In 1996 she was made officer-in-charge for the Food and Agriculture Organization, and World Food Programme, in the Bureau of International Organizations. Two years later she became a political counselor at the embassy in Dakar, Senegal before returning to the United States in 2002 to be deputy director in the State Department's Office of Agricultural, Biotechnology and Textiles Trade Affairs. Much of her time in that post was spent defending U.S.-sourced genetically modified crops to other nations.
That year, Malac also completed an M.S. degree in national resources from National Defense University's Industrial College of the Armed Forces (now known as the Dwight D. Eisenhower School for National Security and Resource Strategy). In 2005, she was named deputy director in the Office of East African Affairs.
Malac went back to Africa in 2007, this time to Addis Ababa, Ethiopia, as deputy chief of mission in the embassy there. She was brought back to Washington in 2009 as director of the mid-level division in the Office of Career Development and Assignments. Two years later, she was made director of the Office of East African Affairs.
In 2012, Malac was given her first ambassadorial post, in Liberia. Her tenure there was fairly routine until the summer of 2014, when the Ebola outbreak began in that country. She helped coordinate the U.S. response to the disease, even to the point of reassuring Liberians that American troops sent to help with logistics and other issues relating to the outbreak were not in the country to stage a coup against President Ellen Johnson-Sirleaf.
Malac and her husband, Ron Olson, have three children. She speaks French, German and Thai.
-Steve Straehley
To Learn More: