Colombia's Ambassador to the United States: Who Is Juan Carlos Pinzón?
Tuesday, January 19, 2016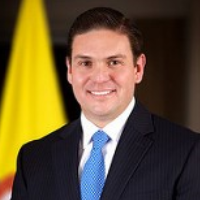 Juan Carlos Pinzón
Juan Carlos Pinzón presented his credentials as Colombia's ambassador to the United States to President Barack Obama on Aug. 3, 2015. It's the first ambassadorial post for Pinzón, who previously served as his country's minister of defense.
Pinzón was born Dec. 22, 1971 in Tunja, on the outskirts of Bogotá, to Rafael Pinzón Rincón and Marlene Bueno. Rafael was a colonel in the Colombian army, and came from a long line of military officers.
Pinzón attended Liceo Patria Bogotá, a school for the children of members of the military. He was expected to follow the family tradition and join the military but instead went to college at Pontifica Universidad Javerian in Bogotá. He specialized in economics, public policy and strategic studies, and earned a bachelor's degree in economics there in 1996. He remained to earn a master's degree in the same subject. He also took advance courses in international relations and strategic studies at Johns Hopkins University, and in science and technology at Harvard University. Subsequently he taught economics at both the Pontificia Universidad Javeriana and the Universidad de Los Andes.
Pinzón worked at the National Federation of Coffee Growers, and was recruited by Citigroup in 1997 to serve as its economist for Colombia. He stayed with the bank until 2000, at which time he joined the Ministry of Finance as a chief of staff. In that post he was assigned the task of coordinating the Defense Ministry budget. Shortly thereafter he joined the efforts of the UNDP Expert Council in crafting democratic security agenda for Colombia.
By 2002, Pinzón was back with Citigroup as an assistant vice president of investment banking. The following year he was named vice president of the Colombian Bankers Assn. Pinzón came to Washington in 2004 as a senior adviser to the executive director of the World Bank.
He returned home in 2006 as vice minister of defense for strategy and planning. He also took time to earn a master's degree in public policy in 2010 from Princeton's Woodrow Wilson School. That year, Pinzón was named chief of staff to Colombian President Juan Manuel Santos. The following year, Santos made Pinzón his minister of defense. He was seen as a hardliner in Colombia's fight against leftist rebels and spent much of his tenure directing Colombia's fight against the Revolutionary Armed Forces of Colombia (FARC).
"I want to lead a serious, persistent and innovative work, put pressure on illegal armed groups to be dismantled or enter a peace process in the terms and times established by the President. I want Colombia to be the most hostile territory in the world to the drug trade," Pinzón told the publication El Tiempo upon his appointment as defense minister.
It was under Pinzón's leadership that the Colombian military also scored successes against the ELN (Ejército de Liberación Nacional, or National Liberation Army) and BACRIM criminal organizations. He remained minister of defense until being replaced in 2015 and being sent to Washington.
Pinzón is married to Maria del Pilar Lozano, who also comes from a military family. They have a daughter, Natalia, and a son, Juan Pablo.
-Steve Straehley, Danny Biederman
To Learn More: