Yemen's Ambassador to the United States: Who Is Ahmed Awad bin Mubarak?
Tuesday, January 19, 2016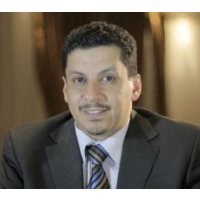 Ahmed Awad bin Mubarak
Ahmed bin Mubarak, who served as Yemen's prime minister for less than two days, presented his credentials as his country's ambassador to Washington to President Barack Obama on Aug. 3, 2015.
Bin Mubarak was born in 1968 in Aden, in what was then South Yemen. His father was a trader. Bin Mubarak attended high school and college in Baghdad, earning an MBA and a Ph.D. in business administration from the University of Baghdad.
Upon returning to Yemen, bin Mubarak began a teaching career. He was head of information technology and marketing and production administration departments at the Science and Technology University and taught at Sana'a University. Between 2007 and 2009 he served as manager of quality and development assurance at the college. He eventually was named director of that school's Center for Business Administration Graduate Studies, which offers the only internationally accredited MBA program in Yemen.
Bin Mubarak participated in numerous international projects, consulting in the areas of education, employment and international development. As a member of the administrative board for the Youth Leaders Development Fund, one of the largest NGOs in Yemen, he oversaw numerous workshops and training sessions for various groups in Yemen, Germany, France, Romania, Ethiopia, Bahrain and Burundi.
In 2013, bin Mubarak was named secretary general of the National Dialogue Conference, which worked for more than a year to establish a new political system for Yemen, which was and remains wracked by violence. He worked hard to have women included in the new government, urging that a quota for women's participation be set.
After the conference concluded, on January 25, 2014, bin Mubarak was appointed as a member and rapporteur of the Regions Committee. He was also named the president's chief of staff. In October he was appointed prime minister. However, he resigned after 33 hours because of opposition from Houthi rebels, who were to withdraw from the capital Sana'a upon the appointment of a prime minister.
In January 2015, bin Mubarak was kidnapped by rebels, but was released after 10 days.
Bin Mubarak is married and has three children.
-Steve Straehley
To Learn More: