Public Outcry over Renaming of Yosemite Landmarks in Trademark Dispute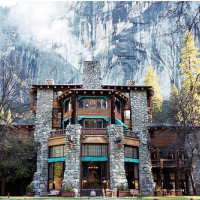 The Ahwahnee Hotel (photo: DNC Parks & Resorts at Yosemite, Inc.)
By Dan Whitcomb
LOS ANGELES (Reuters) - Yosemite National Park will change the names of several of its buildings and landmarks, including the Ahwahnee Hotel and Curry Village, over a trademark dispute with the company that formerly ran its concessions, the park's superintendent said.
The move prompted an outcry from Yosemite visitors, who expressed dismay at seeing their beloved sites renamed and called the claims by the Delaware North Companies greedy.
Delaware North sued the park service in the U.S. Court of Federal Claims in Washington, D.C. earlier this month, claiming that rights to Yosemite's intellectual property, including the famous names, were worth $50 million.
"While it is unfortunate that we must take this action, changing the names of these facilities will help us provide seamless service to the American public during the transition to the new concessioner. Yosemite National Park belongs to the American people," Park Superintendent Don Neubacher said in a statement on Thursday.
According to the park the famed Ahwahnee Hotel, which was built in the 1920s, would be renamed The Majestic Yosemite Hotel and Curry Village would be called Half Dome Village.
The Yosemite Lodge at the Falls was being renamed Yosemite Valley Lodge and the Wawona Hotel would be known as Big Trees Lodge.
"(Delaware North) is shocked and disappointed that the National Park Service would consider using the beloved names of places in Yosemite National Park as a bargaining chip in a legal dispute between DNCY and the NPS involving basic contract rights," the company said on Friday.
Delaware North said it purchased the rights in 1993 for $115 million "in today's dollars" and had offered the park service free use of the names while the dispute played out in court.
A Yosemite spokesman told the Los Angeles Times that the park service hoped to restore the names if it prevails in court.
"Shame on @delawarenorth for greedily trying to exploit a national park. As a travel writer, I'm shocked," Twitter user Sara Benson tweeted under the handle @indie_traveler.
Notable guests of the Ahwahnee have included Queen Elizabeth II, U.S. Presidents Dwight D. Eisenhower, John F. Kennedy and Ronald Reagan, as well as entertainers Desi Arnaz, Lucille Ball, Charlie Chaplin, Judy Garland and Will Rogers, according to the historic-hotels-lodges.com website.
The word "ahwahnee" was reportedly the name used by the Miwok Indians to describe Yosemite Valley, according to a written account by Craig Bates, longtime Yosemite Indian ethnologist and museum curator.
To Learn More:
Spurned Yosemite Concessionaire Sues for Naming Rights at the Park (by Ken Broder, AllGov California)
Yosemite Concessionaire, in Contract Talks, Claims Trademark on Park Landmarks (by Ken Broder, AllGov California)