Kern County, California, Leads U.S. in Per Capita Killings by Police
Monday, December 14, 2015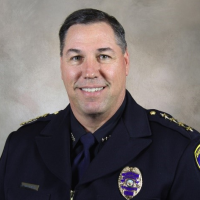 Bakersfield Police Chief Greg Williamson
Despite recent high-profile police shootings in places such as Chicago, St. Louis and Baltimore, it's not a big city that leads the United States in killings by law enforcement officers. Kern County, California, is home to oil wells, country music star Merle Haggard and House Majority Leader Kevin McCarthy. It's also where America's deadliest police forces patrol the streets.
A study by The Guardian shows that officers in Kern County, including the county seat of Bakersfield, kill more people per capita than in any other U.S. jurisdiction. This year, through Dec. 1, there have been 13 police killings in Kern County, giving it 1.5 such deaths per 100,000 population. In second place is Oklahoma County, Oklahoma at 1.3, then San Bernardino County, California at 1.0. No other jurisdiction comes close to those numbers.
During the same period, The Guardian reported, only nine people had been killed by police in all five counties of New York City, where the NYPD has 23 times as many officers as Kern County, protecting 10 times as many people.
The killing of James De La Rosa last month provides a good look into the attitudes of the police forces in Kern County. De La Rosa crashed his car after being chased by Bakersfield police. He exited his car with his hands raised, according to witnesses. He was still shot and killed by police, who later claimed he'd been reaching for his waistband when he was shot. Since De La Rosa was not found to have a weapon, it's unlikely he was reaching for a gun he didn't have. Still, police were exonerated of any responsibility for the death.
In a last show of disrespect for their victim, one of the officers, Aaron Stringer, began to tickle De La Rosa's feet as the body lay on a gurney in the coroner's office. "I love playing with dead bodies," Stringer said, according to The Guardian. During a newspaper interview about the case, Bakersfield Police Chief Greg Williamson couldn't even remember De La Rosa's name.
Other shooting victims have included Jorge Ramirez, a confidential informant for police who was killed when officers tried to arrest (but killed) a drug suspect. Police blamed Ramirez for his death.
"They have some fine officers here, but unfortunately they have some bullies and thugs who often run the show," Henry Mosier, who worked for the county as a public defender for a decade before his recent retirement, told The Guardian.
-Steve Straehley
To Learn More:
The County: The Story of America's Deadliest Police (by Jon Swaine and Oliver Laughland, The Guardian)
Weekly Vigil in County Rife With Police Killings (by Rebekah Kearn, Courthouse News Service)
The Counted (The Guardian)
Police Shoot to Death One Unarmed Person Every 3 Days in U.S. (by Noel Brinkerhoff, AllGov)
How Many People are Killed by Police in U.S.? Who Knows? (by Steve Straehley, AllGov)