U.S. Physicians Call for End to Ban on Gun Violence Research
Saturday, December 05, 2015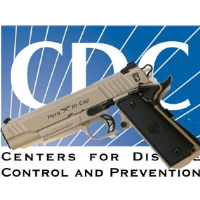 (photo: Ton Dejak, AP; photo illustration: Steve Straehley, AllGov)
Some doctors are demanding that the federal government get back into the business of researching gun violence.
Doctors for America held a press conference in Washington on Wednesday to present a petition signed by more than 2,000 physicians from across the country asking lawmakers to reverse the Dickey Amendment, which has had the effect of keeping the Centers for Disease Control and Prevention (CDC) from conducting research into gun violence. The event Wednesday ended just hours before news broke of the mass shooting in San Bernardino, California.
"It's disappointing to me that we've made little progress in the past 20 years in finding solutions to gun violence," Dr. Nina Agrawal, a pediatrician in the South Bronx, told ThinkProgress. "In my career, I've seen children lives saved from measles, Sudden Infant Death Syndrome, motor vehicle accidents…because of federal scientific data and research. It's frustrating that the CDC is not permitted to do the same type of research for gun violence."
The amendment, authored by Representative Jay Dickey (R-Arkansas) in 1995 and backed by the National Rifle Association, prohibited the CDC from conducting research into gun violence using taxpayer dollars and redirected funding equivalent to an amount the Centers had planned to use for such studies. Since then, the CDC has been reluctant to engage in any gun-related research, lest Congress cut its funding. Even when President Obama asked the CDC to look into the issue after the 2012 Sandy Hook shootings, the agency held off.
The physicians and some members of Congress say it is time to stop hamstringing the CDC's research.
"Gun violence is among the most difficult public health challenges we face as a country, but because of the deeply misguided ban on research, we know very little about it," Representative David Price (D-North Carolina), vice chair to the House of Representatives' Gun Violence Prevention Task Force, said. "Regardless of where we stand in the debate over gun violence, we should all be able to agree that this debate should be informed by objective data and robust scientific research."
Supporters of reversing the ban now include Dickey himself, who claims he never intended to prevent the CDC from researching the problem of gun violence. Representative Mike Thompson (D-California), chair of the House Gun Violence Prevention Task Force, said of Dickey's new position: "He was never in opposition of doing research, he was in opposition to using that to harm the Second Amendment."
-Noel Brinkerhoff, Steve Straehley
To Learn More:
Physicians Demand End to 20-Year-Old Ban on Gun Violence Research (by Alex Zielinski, ThinkProgress)
Why the CDC Still Isn't Researching Gun Violence, Despite the Ban Being Lifted Two Years Ago (by Todd C. Frankel, Washington Post)
Gun Violence Research: History of the Federal Funding Freeze (American Psychological Association)
University Researchers Protest Defunding of Gun Safety Research (by Matt Bewig, AllGov)