5 States Rank as Failures in Preparing for Extreme Weather Events
Wednesday, November 25, 2015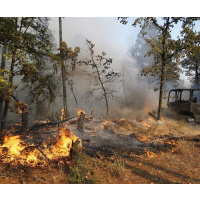 Wildfires hit Central Texas in October (photo: Rodolfo Gonzalez, AP)
Five states received failing grades on their preparations for climate change in a new report (pdf), leaving their residents vulnerable to the effects of extreme weather.
Mississippi, Missouri, Texas, Arkansas and Nevada received failing grades from Climate Central, a climate change research group that developed a report card for each state's preparations for wildfire, extreme heat, flooding and drought.
Mississippi could see its yearly average of 25 days of dangerous heat balloon to 100 days by 2050, but it has taken no climate-change driven action, according to the report. Likewise, Missouri's annual total of dangerous heat days could rise from 15 to 60 by mid-century. "The state has started tracking the impact of extreme heat on water and health, but has made no future plans for such an increase. It also faces increasing threats from drought, wildfire and inland flooding," Taylor Kate Brown wrote at the BBC News.
Those two states, however, have nothing on Texas when it comes to heat. The Lone Star State faces the greatest threat from drought and wildfires by 2050 and the second-greatest threat from extreme heat, with 115 dangerous heat days per year. However, the state has done little to prepare for the threat.
Arkansas faces a high risk of wildfires coupled with an extreme flooding threat. According to Climate Central, that state has done virtually nothing to prepare for either catastrophe.
Nevada's prospects for drought aren't too bad, but it has done nothing to prepare for it, according to the report. The state also faces a high risk of wildfires.
The highest-rated state, according to the report, is California. Although the state faces threats from heat, drought and wildfires, it has done more than any other state to prepare for those eventualities. "California stands out as the state that is taking strong action to understand, plan for, and implement policies to address future wildfire threats; all other states have done far less," according to the report.
-Noel Brinkerhoff, Steve Straehley
To Learn More:
Five U.S. States Where Climate Change Could be Disastrous (by Taylor Kate Brown, BBC News)
America's Preparedness Report Card (States at Risk) (pdf)
Alaska Governor Wants to Pay for Climate Change Programs by Drilling in Arctic Wildlife Refuge (by Noel Brinkerhoff and Steve Straehley, AllGov)