Genetically Engineered Salmon for Dinner? FDA Approves First GMO Animal for Eating
Saturday, November 21, 2015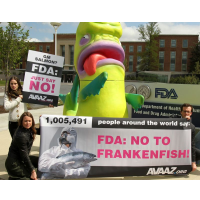 (AP photo)
Two decades after it was first approached, the Food and Drug Administration (FDA) has finally decided to approve the first genetically engineered salmon for sale in the U.S.
The decision regarding the AquAdvantage salmon represents the first time federal regulators have approved any kind of GMO animal for Americans to consume.
AquaBounty Technologies, creator of the GMO salmon, first applied to the FDA for approval in the 1990s. About five years ago, the agency decided that the genetically altered salmon would be safe for the environment as well as for eating.
The company developed the AquAdvantage salmon by taking an Atlantic salmon and altering its DNA so it "grows to market size faster than a non-engineered farmed salmon, in as little as half the time," The New York Times reported.
FDA officials noted that food companies packaging the GMO fish for distribution to retail would not be required to label the product as having been genetically engineered. That decision, said the agency, would be left up to individual companies.
Many consumer and environmental groups reacted negatively to the FDA news, claiming the safety studies of the fish have been inadequate. "This unfortunate, historic decision disregards the vast majority of consumers, many independent scientists, numerous members of Congress and salmon growers around the world, who have voiced strong opposition," Wenonah Hauter, executive director of Food & Water Watch, said in a statement.
Some of the critics believe that wild salmon populations would be put at risk if the GMO fish were to make their way to the open seas. The FDA counters that the GMO breed have been designed to be all-female and sterile to prevent inadvertent breeding.
Another critic, the Center for Food Safety, said it and other organizations plan to file a lawsuit to halt the approval of AquAdvantage salmon.
Meanwhile, AquaBounty's CEO said it will take two years before the salmon make it to market, given that amount of time is needed for the fish to grow to "market size." And when they do make it into stores, it will be in very small amounts since the company's Panamanian production facility doesn't have the capability to produce more than 100 salmon per year. By comparison, the U.S. imports 200,000 regular Atlantic salmon annually.
Coincidentally, the Canadian government recently approved the manufacture of genetically engineered salmon eggs, which environmental groups in that country claim was done secretly and in violation of Canadian environmental protection laws, according to a report from Common Dreams.
Consumer advocate Friends of the Earth warns that the salmon approval by the FDA will set a precedent that could make future GMO animal species easier to put on the market. The group claims that there are at least 35 other species of genetically engineered fish, cows, pigs and chicken in the pipeline, according to Reuters.
-Danny Biederman, Noel Brinkerhoff
To Learn More:
Genetically Engineered Salmon Approved for Consumption (by Andrew Pollack, New York Times)
U.S. Clears Genetically Modified Salmon for Human Consumption (by Julie Steenhuysen and Tom Polansek, Reuters)
Eco Groups Take Canadian Government to Court in GMO Salmon Fight (by Nadia Prupis, Common Dreams)
FDA Says Consumers Have No Right to Know if Salmon are Genetically Modified (by Noel Brinkerhoff, AllGov)
Salmon May Become First Genetically Modified Animal Approved for Human Consumption (by Noel Brinkerhoff, AllGov)