Would Jesus Have Turned Away Syrian Refugees?
Friday, November 20, 2015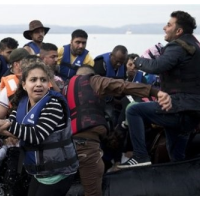 Syrian refugees arrive at Lesbos, Greece (AP photo)
At least 27 governors, most of them Republicans, have publicly said they don't want Syrian refugees in their states, claiming security is more important than humanitarianism. Many of these governors have also made no secret of their Christian beliefs, and often espoused the importance of Jesus Christ and his teachings.
But given their positions on Syrian refugees, ThinkProgress questioned whether some of these Christian governors aren't being selective in following Jesus' example. "The anti-refugee position has struck many observers as hypocritical — especially considering the fact that, before the deadly attacks in Paris and Beirut over the weekend, many of these governors have invoked their Christian faith to make statements calling for tolerance and helping people different from them," Esther Yu-His Lee wrote.
Lee noted the Bible calls on Christians to "welcome the stranger," and that Matthew 25:41-43 says "we cannot say to those in need, 'you are not our problem.'"
But governors such as Nathan Deal of Georgia, Bobby Jindal of Louisiana and Pete Ricketts of Nebraska have essentially said the Syrians fleeing their war-torn land are not their problem.
Deal has said he is a follower of Christ. "Our understanding of what Jesus taught was that you're going to hide these truths in your heart. It's not so much what you say, it's what you do. And it's the way we try to live," Deal said. But his response to the refugee crisis was, "In light of the terror attacks in Paris, I've issued an executive order directing state agency heads to prevent the resettlement of Syrian refugees in Georgia."
Jindal told a prayer meeting in June: "The single most important time in my life is the moment that I found Jesus Christ." But when it comes to the plight of refugees, Jindal, the son of Indian immigrants, said "Mr. President, in light of these attacks on Paris and reports that one of the attackers was a refugee from Syria, it would be prudent to pause the process of refugees coming to the United States. Authorities need to investigate what happened in Europe before this problem comes to the United States."
As for Ricketts, he has publicly proclaimed "to give thanks for the blessings we have received and to renew our commitment to treat others with Christ-like dignity and charity." But there will be no charity forthcoming from Ricketts: "My administration understands the danger and persecution many are facing in the Middle East, however, it is important that our state consider the safety and security of Nebraskans first in any refugee resettlement efforts."
The governors' xenophobia probably won't matter anyway. The Supreme Court has ruled that the president has final say over such issues. "The supremacy of the national power in the general field of foreign affairs, including power over immigration, naturalization and deportation, is made clear by the Constitution," according to the decision in Hines v. Davidowitz.
-Noel Brinkerhoff, Steve Straehley
To Learn More:
These Christian Governors Are Refusing Syrian Refugees. That's Not What Jesus Would Do. (by Esther Yu-His Lee, ThinkProgress)
No, State Governors Can't Refuse To Accept Syrian Refugees (by Ian Millhiser, ThinkProgress)
Majority of Americans Support Treatment of Migrant Children as Refugees, Not Illegal Immigrants (by Noel Brinkerhoff, AllGov)
Refugees Worldwide Reach Level not Seen in Generations…and Half are Children (by Steve Straehley, AllGov)