Bikini Islanders Forced to Leave because of Atomic Testing, Driven Out again by Climate Change
Saturday, October 31, 2015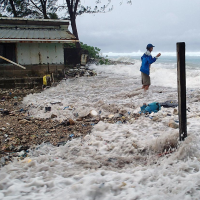 Rising sea levels bring disaster to Marshall Islanders (photo: Karl Fellenius, AFP/Getty Images)
Former residents of Bikini Island who were displaced by atomic weapons testing are now being threatened in their new home by rising sea levels brought on by climate change. This time, they want to settle in the United States.
Before detonating an atomic weapon on Bikini Atoll in 1946, the federal government moved the islanders. They were eventually settled on another Marshall Island, Kili. Officials set up a trust fund to help the displaced islanders build new homes there.
Now the people on Kili say their home has become uninhabitable because global warming has created more frequent "king tides" and severe storms that are swamping their island.
The past four years have been especially difficult for those on Kili. "The island has been inundated by waves, and not just a little bit," Bikini Liaison Officer Jack Niedenthal told Radio New Zealand earlier this year. "… It's getting to the point where people are tired of having water in their living rooms and trying to deal with the waves and the water coming over the island."
The thousand or so Bikini refugees and their descendants want to come to the U.S. and call it home, but they need the U.S. government to change the terms of their trust fund to help pay for their second relocation.
"The people of Bikini came back to us and asked us to take this proposal to the U.S., to request the resettlement trust fund be used to settle people in the U.S., not just the Marshall Islands," Tony de Brum, foreign minister of the Marshall Islands, told the BBC.
The islanders have gained support from the U.S. Department of the Interior, which is sponsoring a bill in Congress that would change the terms of the resettlement trust.
"This is an appropriate course of action for the United States to take regarding the welfare and livelihood of the Bikinian people, given the deteriorating conditions on Kili and Ejit Islands in the Marshall Islands with crowding, diminishing resources, and increased frequency of flooding due to King Tides on their islands," Interior Assistant Secretary for Insular Areas Esther Kia'aina wrote.
-Noel Brinkerhoff, Steve Straehley
To Learn More:
Bikini Islanders Seek U.S. Refuge as Sea Levels Threaten Homes (by Matt McGrath, BBC)
Exiled by Nuclear Tests, Now Threatened by Climate Change, Bikini Islanders Seek Refuge in U.S. (by Sarah Kaplan, Washington Post)
Displaced by Nuclear Bomb Testing and then Flooded by Climate Change, Bikini Islanders want to Evacuate to U.S. (by Noel Brinkerhoff, AllGov)