CIA Use of Waterboarding Found to be More Extensive than Agency Admitted
Tuesday, October 20, 2015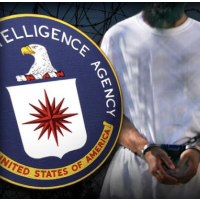 (AP graphics/Yahoo News)
Use of water as a torture method was far more extensive in the Central Intelligence Agency's (CIA) secret program targeting terrorism suspects last decade than previously admitted, according to The Guardian.
The CIA has contended that three detainees—Khalid Sheikh Mohammed, Abdel Rahim Nashiri and Abu Zubaydah—were the only ones who were waterboarded during interrogations. But The Guardian's Spencer Ackerman reported that at least 13 detainees were subjected to waterboarding-like tactics while being interrogated.
In these cases, men endured "water dousing" that, like waterboarding, could simulate a drowning sensation or chill a person's body temperature through immersion in water, with or without the use of a board, causing them to suffer hypothermia.
Some familiar with the incidents, including one interrogator, say that water dousing versus waterboarding "a distinction without a difference," according to The Guardian.
Laura Pitter of Human Rights Watch, who has investigated torture for the group, said the CIA was being "entirely disingenuous" in claiming it waterboarded only three people, according to the British newspaper.
"First, more than three people were waterboarded," she said. "But second, the CIA used water to torture detainees in a variety of ways that cannot escape classification as torture. Whether on a board or on the floor, they induced near suffocation using water. And whether you call it 'waterboarding' or 'water dousing,' that's torture – plain and simple."
A lawsuit filed last week by two former CIA prisoners, Suleiman Abdullah Salim and Mohamed Ahmed Ben Soud, described the torture inflicted on the two as "a form of waterboarding."
-Noel Brinkerhoff
To Learn More:
Torture by Another Name: CIA used 'Water Dousing' on at Least 12 Detainees (by Spencer Ackerman, The Guardian)
Former CIA Prisoners Sue Psychologists Who Created Torture Program (by Noel Brinkerhoff, AllGov)
Still Secret Report Accuses CIA of Fighting White House, Congress and its own Inspector General to Hide Torture Details (by Steve Straehley, AllGov)