Virginia Republicans Argue Gerrymandered Districts Should Stay because they are Pro-Republican rather than Racially-Motivated
Thursday, October 08, 2015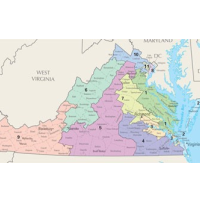 Virginia's congressional districts (graphic: Dept. of the Interior)
Well, give Virginia Republicans credit for chutzpah, anyway.
When Virginia's GOP-dominated legislature was found to have drawn congressional district maps that were racially discriminatory, the districts were ordered to be redrawn. However, the Republicans say their intent was not to discriminate, but to unfairly draw districts that favored candidates from their party, and any remapping should reflect that.
Virginia is one of the most gerrymandered states in the country. Although President Obama won the state in 2012 by three points, eight of the state's 11 congressional districts were won by Republicans, thanks to the districts drawn after the 2010 census. And now, they've admitted in a court filing (pdf) that the gerrymander was intentional, and may they please keep it.
"[T]here is no dispute that maintaining the 8-3 partisan division, by protecting all incumbents of both parties and preserving all district cores, was the Legislature's top discretionary priority," according to the Republicans. Their contention is that "any judicial redistricting plan must be no broader than 'necessary to cure' the constitutional defect identified in the legislature's duly enacted plan."
The Supreme Court does not take gerrymandering cases based on partisan, rather than racial, issues, mainly because it lacks a clear way to judge whether a district has been drawn for partisan purposes. However, it has said that partisan gerrymandering is in contravention to the Constitution. "First Amendment concerns arise where a State enacts a law that has the purpose and effect of subjecting a group of voters or their party to disfavored treatment by reason of their views," Justice Anthony Kennedy wrote in Vieth v. Jubelirer (pdf). "In the context of partisan gerrymandering, that means that First Amendment concerns arise where an apportionment has the purpose and effect of burdening a group of voters' representational rights."
In admitting that they drew the district to favor their party, Virginia's Republican legislators may have made a big mistake. Whether Kennedy sees the case the same way should it reach the Supreme Court is another question.
-Steve Straehley
To Learn More:
Virginia Republicans Admit They Rigged The State's Congressional Districts To Elect GOP Lawmakers (by Ian Millhiser, Think Progress)
Virginia's Congressional Map—Which Dilutes Influence of Black Voters—is Ruled Unconstitutional (by Noel Brinkerhoff, AllGov)
Virginia Republicans Shove through Redistricting Bill by 1 Vote while Democrat Attends Obama Inauguration (by Noel Brinkerhoff, AllGov)