U.S. Health Crisis Could Result from Mass Deportation of Undocumented Citizens, Medical Group Warns
Wednesday, September 09, 2015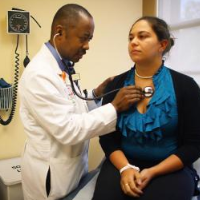 Joe Raedle/Getty Images
Deporting all undocumented immigrants in the United States, as called for by Donald Trump and other Republicans, could result in a health care crisis, according to a leading physicians group.
The American College of Physicians (ACP), which represents doctors of internal medicine and related fields, has come out against the mass deportation of the 12 million undocumented immigrants in the United States, saying such a drastic move could adversely affect millions of individuals and endanger public health.
"Large-scale deportation of undocumented residents would have severe and unacceptable adverse health consequences for many millions of vulnerable people. Numerous studies show that deportation itself, as well as the fear of being deported, causes emotional distress, depression, trauma associated with imposed family separations, and distrust of anyone assumed to be associated with federal, state and local government, including physicians and other health care professionals providing care in publicly funded hospitals and clinics" Wayne J. Riley, ACP's president, said in a news release.
Deporting immigrants could create distrust among them for institutions, including healthcare practitioners, resulting in them delaying or avoiding medical care.
This development in turn could help spread diseases, including highly infectious ones like SARS and tuberculosis, according to Riley, "especially if physicians in publicly funded healthcare facilities would be required to report to authorities on the immigration status of those seeking care from them, as has already been proposed by some states. We would consider such reporting requirements to be an unacceptable, impermissible intrusion on the patient-physician relationship."
-Noel Brinkerhoff
To Learn More:
Citing Potential Adverse Health Impact on Millions of U.S. Residents, Nation's Largest Physician Specialty Society Urges Physicians to Oppose Mass Deportation (American College of Physicians)
Thousands of Doctors Are Protesting Trump's Plan for Mass Deportation, Say It Will Make America Sick (by Esther Yu-His Lee, ThinkProgress)
Donald Trump Has a Plan for Deporting Millions of California Illegal Immigrants (by Ken Broder, AllGov California)