Ecuador's Ambassador to the United States: Who Is Francisco Borja Cevallos?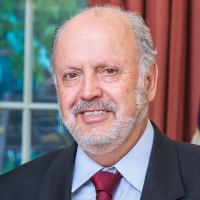 Francisco José Borja Cevallos assumed his post as Ecuador's ambassador to the United States on May 18, 2015. It's the second such position for Borja, who was his country's ambassador to Chile for seven years.
Borja was born June 22, 1949, to Luis Felipe Borja and Aurelia Cevallos. He's one of seven children, and the family is said to be descended from Pope Alexander VI, of the infamous Borgias. Borja attended the American School in Quito and went on to the Catholic University in Quito to study law, finishing there in 1973.
Borja began his working career as a journalist in 1978, first as a reporter, then presenter, assistant director and director of "Contacto Directo" on Ecuador's Canal 8. In 1982 he went into newspapers as political editor and editorial writer for Hoy.
In 1988, Borja's brother, Rodrigo, was elected Ecuador's president as a member of the Democratic Left Party and Francisco went into government as Rodrigo's advisor, staying there until 1992 when the term was up. He then went back to his old job at Hoy.
Borja returned to television in 1996 as manager, general director, presenter and editorial director for the networks La Television, Teleamazonas and Ecuavisa. In 2002 he went back to Hoy, as director of its MetroHoy paper, which was distributed for free to riders on Quito's trolley system. Borja was back in television again in 2006 as the vice president for news of the Teleamazonas news channel.
The following year, Borja was named ambassador to Chile, a post he held for seven years. In September 2014 he began a short stint as Ecuador's minister of culture and heritage, publicizing the recovery of archeological treasures to Ecuador. He held that post until being appointed to the Washington job.
-Steve Straehley
To Learn More: