Worst Cancer Doctor Sentenced to 45 Years in federal Prison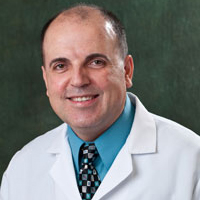 Farid Fata
A Detroit doctor who intentionally misdiagnosed and mistreated patients in order to make millions of dollars has been sentenced to 45 years in federal prison.
Farid Fata was accused of violating more than 550 patients' trust while collecting more than $17 million from fraudulent billings.
In some cases, Fata lied to those with cancer that they were getting better, when in fact their tumors were growing. The Lebanese-born doctor continued to order unusually large and dangerous amounts of chemo for those patients.
"He over-treated terminal cancer patients rather than letting them die peacefully," Robert Allen wrote at the Detroit Free Press. "When he could profit from it, he also under-treated actual cancer patients."
Other Fata patients were told they had cancer when they didn't. One such victim lost his teeth from radiation and chemotherapy treatments Fata ordered after saying the patient had bone cancer.
Fata pleaded guilty last fall to multiple counts of health care fraud, money laundering and conspiracy to pay and receive kickbacks. He also pleaded guilty to overbilling Medicare to the tune of $35 million.
While the guilty plea covers cases involving 10 patients, it is believed that his victims numbered in the hundreds.
In sentencing the physician to 45 years, U.S. District Judge Paul Borman said: "This is a huge, horrific series of criminal acts that were committed by the defendant." Prosecutors had asked for a maximum sentence of 175 years.
An oncology nurse alerted Michigan authorities to Fata's practices in 2010, but they found nothing. Federal authorities finally arrested him in 2013. "I handed Dr. Fata to them on a platter and they did nothing," Angela Swantek, a nurse who observed Fata using improper chemotherapy practice, said after he was in custody.
-Noel Brinkerhoff, Steve Straehley
To Learn More:
Cancer Doc Patients Say 45 Years In Prison Not Enough (by Robert Allen, Detroit Free Press)
Fata Patient Lost Teeth After Chemo He Didn't Need (by Robert Allen, Detroit Free Press)
Lengel: Dr. Farid Fata, the Dr. Mengele of Michigan (by Allan Lengel, Ticklethewire.com)
Nation's Worst Cancer Doctor Pleads Guilty to Medicare Fraud (by Noel Brinkerhoff, AllGov)