Only 13% of Americans Meet CDC Recommendations for Daily Fruit Consumption and 9% for Vegetables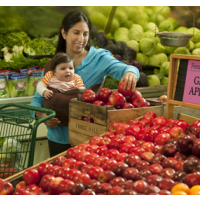 (photo: USDA)
Fewer than 10% of all Americans eat enough vegetables on a daily basis, and only a slightly higher percentage consume enough fruit, according to the Centers for Disease Control and Prevention (CDC).
In its most recent national survey of median daily frequency of fruit and vegetable intake, the CDC determined that only 8.9% of adults eat the recommended daily allowance of vegetables. The consumption rate for fruit was pegged at 13.1% of American adults.
Federal guidelines suggest adults who exercise less than 30 minutes daily should eat 1.5-2 cups of fruit and 2-3 cups of vegetables each day.
The CDC survey found Californians lead the nation in eating enough fruits and vegetables, with 17.7% of adults consuming the daily allowance of fruit and 13% eating enough vegetables. Those states at the bottom of the list are Tennessee (for fruit consumption, 7.5%) and Mississippi (for vegetable consumption, 5.5%).
The CDC also reported that Americans have consistently not eaten enough fruits and vegetables based on data collected over a three-year period (2007-2010). During this span about half of the U.S. population consumed under one cup of fruit and under 1.5 cups of vegetables a day.
Additionally, CDC officials found that 76% of Americans did not meet recommendations for fruit intake, and 87% did not meet them for vegetables.
-Noel Brinkerhoff
To Learn More:
Adults Meeting Fruit and Vegetable Intake Recommendations — United States, 2013 (Centers for Disease Control and Prevention)
CDC: Americans Not Eating Enough Fruits and Vegetables (Medical News Today)
For Good Health, Eat Your Watercress and Chinese Cabbage…and Forget Onions and Blueberries (by Noel Brinkerhoff, AllGov)
USDA Adds Fresh Produce, Yogurt and Tofu to Food Voucher for Poor Program in First Change in 34 Years (by Steve Straehley, AllGov)