States where Politicians have Vowed to Continue Fighting Same-Sex Marriage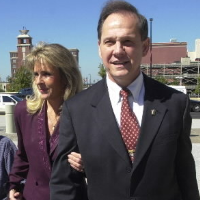 Alabama's chief justice, Roy Moore, with wife Kayla (photo: Dave Martin, AP)
Conservative politicians in Mississippi, Alabama, Louisiana, Utah, Tennessee and Texas have vowed to continue their fight to prevent gays and lesbians from marrying in defiance of the landmark Supreme Court ruling on gay marriage.
In Mississippi, three of the state's Republican leaders, Governor Phil Bryant, House Speaker Philip Gunn and State House Judiciary Chairman Andy Gipson, "are considering all of their options to prevent same sex marriage licenses from being issued," ThinkProgress reported. Meanwhile, state Attorney General Jim Hood left it to county clerks to decide for themselves whether or not to issue marriage licenses.
One option under consideration is for the state to stop issuing marriage licenses altogether, something Utah and Tennessee may also do. That's what two counties in Alabama (Pike and Geneva) have decided on.
Alabama's chief justice, Roy Moore, has said he will resist the Supreme Court ruling, while his wife, Kayla Moore, head of The Foundation for Moral Law, wrote on Facebook that "the U.S. Supreme Court [has] no legal authority to redefine marriage."
Texas Attorney General Ken Paxton told county clerks to ignore the ruling and refuse to issue marriage licenses to same-sex couples.
In Louisiana, Republican Attorney General Buddy Caldwell said publicly that the Supreme Court ruling "overturns the will of the people of Louisiana," and that his office won't immediately enforce the ruling because there was no specific mandate in the decision for his state to issue marriage licenses to same-sex couples. He said when that mandate comes, he will respond.
Arkansas' former governor and current Republican presidential candidate Mike Huckabee has called on opponents of the marriage equality ruling to engage in acts of civil disobedience.
-Noel Brinkerhoff
To Learn More:
Even After Supreme Court Ruling, These States Are Still Resisting Same-Sex Marriage (by Casey Quinlan, ThinkProgress)
Where Gay Marriage Stands in the States That Didn't Have It (by Niraj Chokshi and Jeff Guo, Washington Post)
Texas Attorney General Encourages County Clerks To Ignore Supreme Court, Turn Away Same-Sex Couples (by Judd Legum, ThinkProgress)
Huckabee: Same-Sex Marriage Opponents Don't 'Have A Choice' But To Engage In Civil Disobedience (by Jack Jenkins, ThinkProgress)
After Same-Sex Marriage Ruling, Southern States Fall in Line (by Erik Eckholm and Manny Fernandez, New York Times)
Statement by Attorney General Caldwell on Today's Supreme Court Ruling (Office of the Attorney General, State of Louisiana)