Lawsuit Accuses SeaWorld of Abusing Whales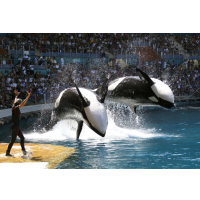 Seaworld in scene from "Blackfish" (photo: CNN Films)
SeaWorld has been accused of abusing its signature killer whales, or orcas, according to a lawsuit filed against the theme park corporation.
Lead plaintiff Valerie Simo says she would not have purchased tickets and memberships to the park if she had known that SeaWorld mistreats its killer whales by housing them in small tanks, giving them pharmaceutical drugs and depriving them of food. "Concealed from the public is the impact on these animals of captivity in a confined space, the forced separation of young whales from their mothers, the unnatural mixing of whales that do not have the same culture in small spaces, the forced breeding and inbreeding of young female whales, the routine use of pharmaceutical products to unnaturally drug the orcas, the psychological manipulation and at times food deprivation to which they are subjected, the deep rake marks on their bodies that result from incompatibility and cramped conditions, and many other life-shortening and painful experiences from which they have no escape," Simo claims in her lawsuit.
The company has also misrepresented how the marine mammals are treated at the park, Simo says.
"This illusion masks the ugly truth about the unhealthy and despairing lives of these whales. This is a truth that, if known to the purchasing public at the time families make the decision to visit SeaWorld, buy a membership, or pay for an 'exclusive park experience,' would lead them to seek entertainment elsewhere," the complaint states.
The lawsuit further takes issue with SeaWorld's claim that its whales live as long as those in the wild. Simo claims some of the whales live less than 20 years, compared to those in the ocean that can live between 30 and 90 years.
The suit is one of a series of similar cases filed by those who have visited SeaWorld parks in San Diego, San Antonio and Orlando. Many of the plaintiffs, including Simo, are represented by attorneys affiliated with the same law firm, Hagens Berman.
SeaWorld, which has been working to counter depictions made in the movie "Blackfish" that its animals are mistreated, saw attendance rise in the first quarter of 2015, according to MarketWatch.
-Noel Brinkerhoff
To Learn More:
Class Claims SeaWorld Drugs Orcas (by Elizabeth Warmerdam, Courthouse News Service)
SeaWorld Faces Third Lawsuit in as Many Weeks Over Orca Captivity (by Zoe Loftus-Farren, Earth Island Journal)
SeaWorld Narrows Loss as Attendance Grows (by Angela Chen, MarketWatch)
SeaWorld Orca Show Goes on as Ban Dies in Legislature (by Ken Broder, AllGov California)
Safety Director Claims SeaWorld Ordered Her to Obstruct Whale Death Investigation (by Noel Brinkerhoff, AllGov)