Wildlife Services Killed more than 2.7 Million Animals Last Year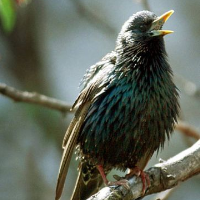 European starling (photo: Daniel Baleckaitis, AP)
Wildlife Services is an ambiguously named division of the U.S. Department of Agriculture (USDA). The name sounds benign enough—someone might assume that the agency somehow protects animals from harm.
That's not the case though. Wildlife Services killed 2,713,570 animals—mostly birds—in 2014. The previous year it had set a record for wildlife kills: 4 million. In nearly two decades the agency has destroyed more than 27 million animals.
"It's sickening to see these staggering numbers and to know that so many of these animals were cut down by aerial snipers, deadly poisons and traps," Amy Atwood, a senior attorney at the Center for Biological Diversity, said in a release. "These acts of brutality are carried out every day, robbing our landscapes of bears, wolves, coyotes and other animals that deserve far better. Wildlife Services does its dirty work far from public view and clearly has no interest in cleaning up its act."
Information from Wildlife Services details (pdf) what species are killed and what method is used to kill the animals. The largest number killed of a single species is 1.1 million European starlings, the overwhelming majority of their deaths accomplished with poisonous chemicals. These birds had been introduced into the United States in 1890 by the American Acclimatization Society as part of its effort to have every bird species mentioned in William Shakespeare's plays be represented in New York's Central Park.
Coyotes were another big target of Wildlife Services, with almost 62,000 killed last year. Most were killed via snares or cyanide, but nearly 5,000 were killed by agents in helicopters, demonstrating the lengths Wildlife Services will go to please ranchers who consider the native animals "pests."
But there are plenty of non-invasive species killed by Wildlife Services as well. USDA claims that it killed 16 domestic animals in traps and by ingestion of cyanide capsule. Many more "feral" domestic animal killings were claimed, although it's unclear how the agency could distinguish the two. A 2012 investigation by the Sacramento Bee found that since 2000, more than 50,000 animals, including family pets and endangered golden and bald eagles, have been caught up in the Wildlife Services killing machine.
A former Wildlife Services trapper said that when pets had been killed by the agency, he got specific instructions on how to deal with the problem. "Specifically with household pets, when we caught those pets, we were told to take their collars off. We were told to get rid of the collars. We were told to bury the dogs, and we were told to never report that," Rex Shaddox said in the film Exposed: USDA's Secret War on Wildlife.
"In times when fiscal constraint is demanded, we believe programs that carelessly kill rare species and indiscriminately kill a great diversity of non-target species should be defunded and discontinued," American Society of Mammalogists President Michael Mares wrote in a letter to Wildlife Services.
"The irony is state governments and the federal government are spending millions of dollars to preserve species and then [you have] Wildlife Services out there killing the same animals," he told the Bee. "It boggles the mind."
Here is a selective list of animals killed by Wildlife Services in Fiscal Year 2014:
European Starlings—1,140,309
Red-Winged Blackbirds—321,446
Pigeons—78,207
Coyotes—61,702
Swine—30,256
Beavers—22,496
Brown Tree Snakes—21,546
Geese—21,406
Prairie Dogs—15,911
Sparrows—12,512
Raccoons—11,670
Squirrels—10,200
Pocket Gophers—8,620
Rabbits—7,157
Deer—5,814
Skunks—5,529
Vultures—4,980
Ducks—3,808
Foxes—2,930
Chickens—2,640
Iguanas—2,501
Mongooses—2,370
House Finches—2,454
Opossums—2,101
Swans—1,347
Jackrabbits—813
Parakeets—751
Monkeys—601
Black Bears—580
Otters—454
Wolves—322
Turtles—313
Mountain Lions (Cougars)—305
Wild Turkeys—287
Dogs—271
Owls—270
Porcupines—221
Armadillos—160
Woodpeckers—129
Minks—85
Pelicans—51
Marine Toads—34
Lizards—22
Chipmunks—14
Rattlesnakes—11
Eagles—8
Alligators—5
Sheep—4
Pronghorns (Antelope)—2
Frogs—1
-Steve Straehley, David Wallechinsky
To Learn More:
Animals Taken by Wildlife Services - FY 2014 (U.S. Department of Agriculture) (pdf)
2.7 Million Creatures Killed Last Year in U.S.'s Secretive War On Animals (by Stephen Messenger, The Dodo)
Secretive U.S. Agency Kills Pets and Hides Their Bodies, Says Whistleblower (by Stephen Messenger, The Dodo)
The Killing Agency: Wildlife Services' Brutal Methods Leave a Trail of Animal Death (by Tom Knudson, Sacramento Bee)
Wildlife "Services" Spent $100 Million Killing Animals (by David Wallechinsky, AllGov)