Senate Food Workers Walk off the Job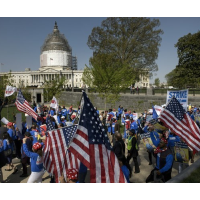 U.S. Senate cafeteria workers on strike at the Capitol (photo: Brendan Smialowski, AFP/Getty Images)
The campaign to raise wages for low-paid workers to $15 an hour has come to the U.S. Senate.
Those manning the Senate cafeteria—along with other food service and janitorial workers—raised the issue of a living wage, pegged at $15/hour by labor advocates, by walking off the job Wednesday morning.
The 40 contract workers, employed by Restaurant Associates, a subsidiary of the British-based Compass Group, were joined by a thousand labor activists demanding federal contractors pay their workers more money.
President Barack Obama issued an executive order in February requiring that federally contracted employees earn a minimum of $10.10 an hour. But the Senate workers and other federal contract employees are urging the president to sign a "Model Employer Executive Order" that would instruct agencies to give contracting preferences to businesses that pay their workers $15 an hour.
One of the Senate cafeteria staff, Bertrand Olotara, said he makes $12 an hour, which is not enough for him and his daughter to live on. He wrote in an op-ed published by The Guardian that he lives "in poverty" and "had to take a second job at a grocery store to make ends meet."
He added "even though I work seven days a week – putting in 70 hours between my two jobs – I can't manage to pay the rent, buy school supplies for my kids or even put food on the table. I hate to admit it, but I have to use food stamps so that my kids don't go to bed hungry."
-Noel Brinkerhoff
To Learn More:
Food Workers, Janitors Walk Out on U.S. Senate (by John Verhovek and Dana Bash, CNN)
I am a Cook in the US Senate But I Still Need Food Stamps To Feed My Children (by Bertrand Olotara, The Guardian)