Boeing and Delta Clash over Dismantling of Federal Export-Import Bank
Wednesday, April 08, 2015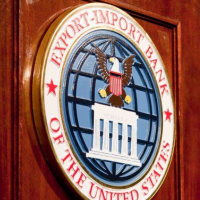 Two of the biggest players in commercial aviation are duking it out over the continued existence of the Export-Import Bank of the United States (Ex-Im Bank).
In one corner is Delta Air Lines, which wants the bank to die, or at least cut its ability to make loan guarantees, when its authorization expires on July 1. Delta claims Ex-Im Bank's guarantees have benefited foreign airlines that compete with the U.S. carrier, according to The New York Times. The lower borrowing costs can allow foreign airlines to undercut Delta's ticket prices or allow them to buy more airplanes, Delta says.
Delta has garnered support from conservative free-market advocates like Heritage Action, the Club for Growth, and the Koch brothers-backed Freedom Partners, which see the Ex-Im Bank as a form of "crony capitalism" and "corporate welfare."
On the other side is airplane manufacturer Boeing, which has benefited for years from the bank's loan guarantees that make it easier for overseas airlines to buy Boeing's planes than can cost hundreds of millions of dollars.
Boeing wants to keep the bank operating beyond July, and has spent $69 million on lobbying to support its reauthorization and on other interests, according to the Times. That's considerably more than the $10 million Delta has spent. The airline also tried to fight in the bank in federal court but lost.
The U.S. Chamber of Commerce, the National Association of Manufacturers, General Electric, Caterpillar and Applied Materials are all weighing in on Capitol Hill for the aircraft manufacturer.
-Noel Brinkerhoff, Steve Straehley
To Learn More:
Boeing and Delta Spend Millions in Fight Over Export-Import Bank's Existence (by Jonathan Weisman and Eric Lipton, New York Times)
Delta Air Lines v. Export-Import Bank of the United States (U.S. District Court, District of Columbia)
Boeing Gets Aggressive With Their Lobbying For the Export-Import Bank (by Tess VandenDolder, DCInno)
Majority of U.S. Export-Import Bank Subsidies Went To One Company: Boeing (by Noel Brinkerhoff, AllGov)