Police Officer Goes on Trial for Firing 49 Shots at Two Unarmed Drug Users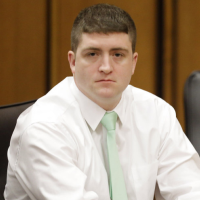 Michael Brelo (photo: Mark Duncan, AP)
Cleveland police officer Michael Brelo went on trial Monday for firing nearly 50 bullets at two unarmed drug users following a high-speed chase that involved more than a third of the police force.
On November 29, 2012, a car being driven by two suspected drug offenders, Timothy Russell and Malissa Williams, was pulled over by officer John Jordan. The two then sped away, prompting Jordan to radio for help with the pursuit.
During the chase, an inadvertent backfire by Russell's car led police to assume Russell and Williams were firing shots at them. Multiple officers reported the lethal danger they were facing over police radios: "They're shooting at us! They're shooting at officers!" … "He's pointing the gun out the back window." … "Passenger is reloading."
Sixty-two police vehicles and more than 100 officers joined the pursuit, which continued for more than 20 minutes. In all, 37% of the Cleveland Police Department got involved, even though only three of the police cruisers were authorized to go after Russell's car.
Once Russell and Williams got cornered in a high school parking lot, more than a dozen of the pursuing officers stopped their cars and opened fire. They unloaded 137 shots at the vehicle, much of it in a dangerous crossfire that could have wounded or killed some of the police.
State Attorney General Mike DeWine said following an investigation of the incident:
"It is, quite frankly, a miracle that no law enforcement officer was killed."
Forty-nine of the bullets fired came from the gun of Brelo, who climbed on top of the suspects' Chevrolet Malibu and fired pointblank at the windshield. Russell and Williams were hit more than 20 times each and died inside their car. It was determined that neither of them had been armed.
"Clearly, officers misinterpreted the facts," said DeWine. "They failed to follow established rules."
Brelo faces two counts of voluntary manslaughter, and up to 10 years in prison if convicted. He was the only officer indicted.
During the first day of Brelo's trial, Assistant Cuyahoga County Prosecutor Rick Bell said that the two suspects were still alive in their vehicle when Brelo jumped onto the car's hood, according to WKYC-TV. Brelo was heard by others to have yelled 'Semper Fi!' as he opened fire with a barrage of bullets into the windshield, killing Russell and Williams.
A Marine who had served in the Iraq war, Brelo took the "high ground" by leaping atop the hood, which was a tactic he had learned in his military training, said Bell. Brelo was said to have told another police officer that the incident made him feel like he was back in the war.
But Brelo is not "on a tour of duty" and "we are not at war," Bell said.
In addition to Brelo's indictment, 63 officers were suspended, one supervisor was fired, and two more supervisors were demoted, according to Mike Hayes at BuzzFeed.
"The public outcry and horrific detail surrounding Williams and Russell's killings by police became the catalyst for a Department of Justice investigation of the department's use of force policies — the second federal probe of Cleveland Police in less than 10 years," reported Hayes. "The families of Williams and Russell each reached $1.5 million settlements with the city."
-Danny Biederman, Noel Brinkerhoff
To Learn More:
Trial of Cleveland Police Officer Michael Brelo Underway (by Mike O'Mara and Kim Wendel, WKYC-TV)
This Cop Is on Trial for Firing 49 Shots at Two Unarmed Suspects (by Mike Hayes, BuzzFeed)
Two Police Officers Want Immunity at Trial of Cleveland Police Officer Michael Brelo (by Ida Lieszkovszky, Northeast Ohio Media Group)
Cleveland Police Chase and Shooting Grand Jury: Patrolman and 5 Supervisors Are Indicted (by John Caniglia, The Plain Dealer)
Cleveland Mayor Forced to Apologize for Claiming 12-Year-Old Shot by Police Was Responsible for his own Death (by Steve Straehley, AllGov)