Parasitic Worms Found in Sushi Can Detect Cancer in People by Smelling it in Their Urine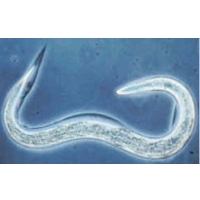 The parasitic worm that can smell cancer (photo: Massachusetts Institute of Technology)
A Japanese man's taste for sushi may have led to a new way to diagnose cancer.
Researchers in Japan have discovered that roundworms (Caenorhabditis elegans) often found in sushi seek out and attach themselves to cancer cells. The discovery was made when the worms were found attached to a cancerous mass in a 63-year-old man's stomach.
Further research led to the finding that the worms can smell the cancer when exposed to a sample of a patient's urine. The worms have been shown to sniff out stomach, colorectal, colon, esophageal, pancreas, bile duct, prostate, breast and lung cancers and correctly diagnose it 96% of the time, which researchers say is better than a blood test.
"In existing tests, people must have different examinations according to the type of cancer they have," Takaaki Hirotsu of Kyushu University in Japan, an author of the study, said. "Our odor-based test detected all nine types of cancer we tested."
The researchers are now collaborating with technology companies Hitachi and Johnan to develop a diagnostic test that can detect the disease in its early stages.
-Noel Brinkerhoff, Steve Straehley
To Learn More:
Sushi Parasite Inspires Worm Test for Cancer (by Vijay Shankar, New Scientist)
A Sushi Parasite That Can Smell Cancer: Can Roundworms Be Used As A Diagnostic Tool? (by Lecia Bushak, Medical Daily)
A Highly Accurate Inclusive Cancer Screening Test Using Caenorhabditis elegans Scent Detection (by Takaaki Hirotsu, Hideto Sonoda, Takayuki Uozumi, Yoshiaki Shinden, Koshi Mimori, Yoshihiko Maehara, Naoko Ueda, and Masayuki Hamakawa, PLOS ONE)