Madison, Wisconsin Becomes First City in U.S. to Outlaw Discrimination against Atheists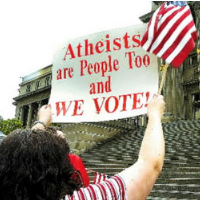 (photo: Diane Humble, Idaho Press Tribune, AP)
Atheists are now protected against discrimination in Madison, Wisconsin, making it the first city in America to afford such protection.
The local city council voted unanimously to approve an ordinance that protects atheists in the areas of employment, housing, and public accommodations. They now join the city's long list of protected classes that include sex, race, religion, color, national origin or ancestry, citizenship status, age, handicap/disability, marital status, gender identity, and political beliefs.
Councilwoman Anita Weier, who sponsored the ordinance, said it was "only fair" to broaden anti-discrimination protection to atheists. "This is important because I believe it is only fair that if we protect religion, in all its varieties, we should also protect non-religion from discrimination," Weier said.
Former Atheists, Humanists, and Agnostics president Chris Calvey said: "Having it on the books, where we're legally a protected class, that will make things much easier for atheists. And we'll be able to be confident that at least if we're honest about what we actually believe, then we have the law backing us up so we can't legally be discriminated against."
-Noel Brinkerhoff
To Learn More:
Wisconsin Capital Becomes First City in the Nation to Make Discrimination against Atheists Illegal (by Tom Boggioni, Raw Story)
Madison First in Nation to Pass Ordinance Protecting Atheists (by Matthew Simon, Channel 3000)
Equal Opportunities Ordinance Amendment (City of Madison)
Atheists and Non-Believers in U.S. Are Widely Viewed as "Lesser Americans," Says Report (by Noel Brinkerhoff, AllGov)
Insurance Company Settles Claim for Discriminating against Atheists (by Noel Brinkerhoff, AllGov)