How Did Two Military Officers Accused of Human Rights Abuses in South America End up Teaching at the Pentagon's National Defense University?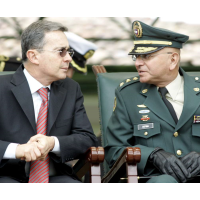 Carlos Ospina, in military garb, confers with former Colombian President Alvaro Uribe in 2006 (photo: Fernando Vergara, AP)
A military school operated by the Department of Defense has come under criticism for hiring military officers from Latin America accused of human rights atrocities.
National Defense University (NDU) employed at least two controversial commanders, one from Colombia and another from Chile, who allegedly oversaw or personally ordered heinous crimes against civilians.
One is Carlos Alberto Ospina Ovalle, the former chief of the Colombian Armed Forces. While he was still a field officer, Ospina led an Army brigade in 1997 that allowed a pro-government militia to sack the village of El Aro in northern Colombia, according to the Center for Public Integrity.
The assault left several dead, including children, and others missing. "One shopkeeper was tied to a tree, had his eyes gouged out, and his tongue removed, according to witness reports at the time cited by human rights investigators," Julia Harte and R. Jeffrey Smith reported.
The allegations didn't stop Ospina from joining the teaching staff at NDU's William Perry Center for Hemispheric Defense Studies, where he taught from 2006 to 2014. There, he lectured "elite" U.S. and foreign military officers and civilians among other students.
Another NDU instructor with a questionable past was Jaime Garcia Covarrubias, a former brigadier in the Chilean Army. Garcia Covarrubias, who taught courses from 2001 until 2013 on security strategy and democratic leadership at the Perry Center, may have worked for dictator Augusto Pinochet and his secret police.
"Regional press reports in 2010 and 2013 said that Garcia Covarrubias had been accused by prisoners and witnesses of beatings and torture. A former prisoner at Garcia Covarrubias' regimental base in the southern city of Temuco, Herman Carrasco, told an appeals court there in Sept. 2010 that Covarrubias 'forced us to perform naked acts of sodomy, without success,' according to an article published that year by the Spanish news agency EFE," the Center for Public Integrity reported.
The NDU Perry Center has been at the center of another controversy these past few years, according to Harte and Smith. In 2012 a U.S. Army colonel produced a non-public report saying that the military school had a "hostile work environment" and frat-house atmosphere. It cited inappropriate treatment of women, senior leaders using "inappropriate hand gestures" including simulated masturbation, offensive language ("homo" and "faggot"), and "racially charged emails," one of which targeted President Obama.
-Noel Brinkerhoff
To Learn More:
Flagship Military University Hired Foreign Officers Linked To Human Rights Abuses In Latin America (by Julia Harte and R. Jeffrey Smith, Center for Public Integrity)
Militar Chileno que Trabaja en el Pentágono, Acusado de Torturar Prisioneros (El Diario Montañes)
Human Rights and USA Military Aid to Colombia II (Refworld) (pdf)
'Uribe Ordered El Aro Massacre' (Meeting Point)