The Deadliest Car on U.S. Roads
Thursday, February 05, 2015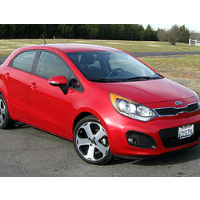 2012 Kia Rio (photo: Wikipedia)
Overall, cars are safer now than they were even five years ago. Today's vehicles include electronic stability control and design features that make occupants less likely to be killed in an accident. But while death rates in general have declined, the car found to be the deadliest has actually gotten more dangerous over time.
The Kia Rio, a very small four-door car, led the Insurance Institute for Highway Safety's (IIHS) list of the deadliest cars through the 2012 model year with 149 deaths per million registered vehicle years. A similar IIHS report prepared in 2011 found the Rio to have "only" 89 deaths per million registered vehicle miles.
However, death rates in general have dropped. According to the 2011 report, there were six vehicles through the 2009 model year with death rates of 100 or more, led by the Nissan 350Z sports car at 143. This year's version lists only three: the Rio, Nissan Versa at 130 and the Hyundai Accent at 120. All are very small cars that provide less protection than larger vehicles for their occupants. Not all vehicles were tested, so there might be a car even deadlier than the Rio. For example, there's no data for the Nissan 370Z, the latest iteration of the 350Z.
At the other end of the scale are nine cars that had death rates of zero. One was even another Kia, the Sorento sports utility vehicle; it was one of six SUVs among the safest vehicles. The latest figures are up from seven vehicles, four of them SUVs, with zero death rates in the 2011 report. SUVs tend to be the safest choice a driver can make. Their size and height contribute to accident avoidance and survivability if they are in a wreck.
"The complete elimination of traffic deaths is still many decades away, and, along with vehicle improvements, getting there will require changes in road design and public policy that can help protect all road users," said David Zuby, IIHS executive vice president and chief research officer. "Still, the rise in the number of vehicles with zero driver deaths shows what's possible."
Fatality rates have been cut by more than half since 1990. That year, the average death rate for all cars examined was 143. By 2012, that number was 65.
"In some ways, the '90s weren't a great time for highway safety policy. Speed limits increased, and belt use gains leveled off," wrote IIHS President Adrian Lund, a co-author of the latest study, as well as some previous ones. "However, consumers began to think more about the safety of vehicles, thanks at least in part to the increasing availability of crash test ratings from both the National Highway Traffic Safety Administration and the Institute. Manufacturers responded to the ratings by making improvements, and this process has accelerated in recent years, thanks to shorter design cycles."
-Steve Straehley
To Learn More:
Saving Lives: Improved Vehicle Designs Bring Down Death Rates (Insurance Institute for Highway Safety)
Death Rates by Model: SUV drivers Are Among Least Likely to Be Killed (Insurance Institute for Highway Safety)
Traffic Fatality Rate Hits Historic Low (by Noel Brinkerhoff, AllGov)