Traffic Fatality Rate Hits Historic Low
Saturday, December 27, 2014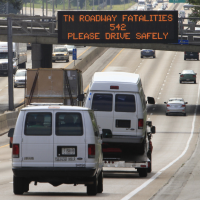 (AP Photo)
Roadways became safer than ever in the United States last year with a record low for passenger-vehicle occupant deaths.
The National Highway Traffic Safety Administration (NHTSA) announced the number of people killed in passenger vehicles dropped by 3% to 21,132. That total, according to the NHTSA, was the lowest on record going back to 1975.
The data for last year also showed a 3.1% decline in overall highway deaths from 2012 and nearly a 25% drop since 2004. A total of 32,719 people died in 2013 in all traffic crashes.
"The more than three percent decline in traffic fatalities continues a long-term downward trend leading to the fatality rate matching a historic low – 1.10 deaths per 100 million vehicle miles traveled in 2013, down from 1.14 deaths per 100 million vehicle miles traveled in 2012," the NHTSA reported.
The NHTSA also reported a 0.9% decline in large truck occupant deaths and a 6.4% drop in motorcyclist fatalities. Both were the first drops since 2009. There was also a 1.7% drop in pedestrian fatalities to 4,735. This total is still 15% higher than the record low of 4,109 five years ago.
-Noel Brinkerhoff
To Learn More:
U.S. Department of Transportation Announces Decline in Traffic Fatalities in 2013 (National Highway Traffic Safety Administration)
Traffic Deaths Hit 60-Year Low (by Noel Brinkerhoff, AllGov)