Seniors Beware of Useless Tests…in Certain States
Tuesday, February 03, 2015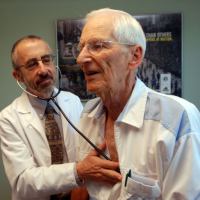 (photo: Jerr Barnard, AP)
Doctors in states popular with seniors have a tendency to order unnecessary medical tests, according to The New York Times.
Citing its own research as well as that of others, the newspaper found states that attract elderly Americans for vacations or winter stays sometimes have higher testing rates for certain procedures.
Florida, long a popular getaway for seniors in the northeast, is one such state. The Times found three years ago that Florida doctors ordered more than twice the number of nuclear stress tests, echocardiograms and vascular ultrasounds per Medicare beneficiary than in Massachusetts.
"You walk in the door, and they just start doing things," Sally Spencer, 70, told the newspaper after she discovered a Florida physician wanted to conduct unnecessary tests on her husband.
Florida is an "epicenter of Medicare abuse," wrote the Times' Elisabeth Rosenthal, noting that "widespread fraudulent claims in South Florida" led to the forming of a federal operation, the Medicare Fraud Strike Force, to combat the problem.
Researchers at Dartmouth College reported in 2014 that Medicare patients in Florida as well as California, Arizona, southern Nevada and South Texas—all of which attract seniors—had testing rates that were above the national average.
Rosenthal wrote that the expense of medical testing can tempt some doctors to authorize useless exams for seniors.
"Medical testing is a huge industry in the United States, with prices that are highly variable in different parts of the country," she wrote. "And while Medicare — the government insurance program for those over 65 or with disabilities — strictly regulates the price of tests and procedures, doctors who treat seniors can increase revenues by simply expanding the volume of such services and ordering tests of questionable utility."
-Noel Brinkerhoff
To Learn More:
Medical Costs Rise as Retirees Winter in Florida (by Elisabeth Rosenthal, New York Times)
Overbilling by Doctors and Hospitals Costs Medicare a Billion Dollars a Year (by David Wallechinsky and Noel Brinkerhoff, AllGov)