Marine Corps Clashes with Whistleblower over Murder of 3 Marines in Afghanistan
Sunday, December 28, 2014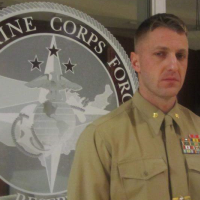 Maj. Jason Brezler
A Marine Corps Reserve major who's an Afghan war veteran is now fighting his superiors with a lawsuit (pdf) in an effort to remain in the service after a board of inquiry recommended he be kicked out after reporting facts about an insider attack at a forward operating base.
Major Jason Brezler alerted his superior officers to the presence of an Afghan police chief, Sarwar Jan, with ties to the Taliban at Forward Operating Base Delhi. Jan kept an entourage of young male sex slaves, one of whom in August 2012 opened fire on Marines at the base, killing three and wounding one. Brezler and another Marine, Captain Andrew Terrell, had previously expelled Jan from an Afghan village for keeping the sex slaves, according to Stars and Stripes.
That attack and others were not investigated by the Marine Corps until much later, under pressure from the dead Marines' families and the media. When an investigation was finally made, it resulted in a general being relieved of command.
"The findings of that investigation that the Marine Corps tried so hard not to avoid, revealed what the Marine Corps wanted so badly to cover-up: an abject failure on the part of senior Marine commanders to address known threats and implement adequate protection of Marines endangered by those threats. As a result, Marine Major General Gurganus, who was in overall command of the Helmand province, which included FOB Delhi, was relieved of command," the suit reads.
In the process of providing his superiors information about Jan, Brezler used a personal email account and his personal laptop, both technical security violations which he self-reported. He never sent information to anyone not authorized to receive it. He subsequently provided information about the attacks to Rep. Peter King (R-New York) and the U.S. Attorney for the Eastern District of New York, according to Courthouse News Service.
Although the Naval Criminal Investigative Service recommended that no action be taken against Brezler, the Marine Corps initiated a Board of Inquiry against him. Brezler was not allowed to call certain witnesses during the three-day hearing and was provided with a transcript with more than 1,500 missing parts labeled "inaudible." The board recommended Brezler be kicked out of the service for "substantiated allegations of substandard performance of duty and misconduct." The recommendation is now before Secretary of the Navy Ray Mabus.
In response, Brezler, a New York City firefighter, is suing the Department of the Navy and Lt. Gen. Richard Mills, commandant of the Marine Corps Reserve, for violating whistleblower protections. Brezler is asking that he be provided a complete transcript of the board hearing or that its decision to separate him from the Marine Corps be vacated.
-Steve Straehley
To Learn More:
3-Star General Under Investigation for Allegedly Punishing Whistleblower (by Jon Harper, Stars and Stripes)
Marine Says Corps Targeted Him Over Security Warning (by Nick DiVito, Courthouse News Service)
Jason Brezler vs. Lieutenant General Richard Mills, United States Marine Corps, and United States Department of the Navy (pdf)
Why Was Firefighter-Marine Reserve Maj. Jason Brezler Betrayed? (by Michael Daly, Daily Beast)