Oklahoma and Nebraska Sue Colorado for Legalizing Marijuana
Monday, December 22, 2014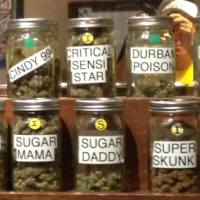 Organic marijuana dispensary in Fort Collins, Colorado (photo: David Wallechinsky)
Two heartland states have sued Colorado over its recreational marijuana law, claiming the legalization of the drug has had a spillover effect in their jurisdictions.
The attorneys general for Nebraska and Oklahoma want Colorado's marijuana legalization program stopped in order to stem the flow of pot into counties that border the state. The litigation claims Colorado's law has "created a dangerous gap" in the federal drug-control system, which still treats marijuana as an illegal substance.
"Marijuana flows from this gap into neighboring states," the suit says, undermining their marijuana bans, "draining their treasuries, and placing stress on their criminal justice systems."
Law enforcement reports from neighboring states since Colorado adopted its law two years ago say that marijuana busts have increased substantially, creating strains on local budgets. Sheriff Adam Hayward of Deuel County, Nebraska, told The New York Times that "a lot of marijuana" has been "coming over from Colorado" and that "this is becoming a problem for us."
Supporters of decriminalizing marijuana say overturning Colorado's law would actually create more trouble for police and sheriffs. "If Nebraska and Oklahoma succeed, they will put the violent criminal organizations back in charge," Michael Elliott, executive director of the Colorado-based Marijuana Industry Group, said in a statement.
The lawsuit, which asks the U.S. Supreme Court to get involved in the case, does not name Washington state, which also has legalized marijuana, because it doesn't border Nebraska or Oklahoma.
A challenge to Colorado's law on this basis could set an interesting precedent. If the suit is successful, could states with tougher gun laws sue neighboring states with relaxed firearm regulation because they allow guns to flow into their state?
-Noel Brinkerhoff, Steve Straehley
To Learn More:
Nebraska and Oklahoma sue Colorado over Marijuana Legalization (by John Ingold, Denver Post)
Nebraska and Oklahoma Sue Colorado Over Marijuana Law (by Jack Healy, New York Times)
2 States Challenge Colorado Marijuana Legalization (by Grant Schulte, Associated Press)
Nebraskans Want Colorado to Share Cost of Prosecuting Citizens Caught with Marijuana in Nebraska (by Noel Brinkerhoff, AllGov)
States of Nebraska and Oklahoma v. State of Colorado