Ohio Student Mentoring Program Requires Religious Partnering to Receive Government Funds
Tuesday, December 16, 2014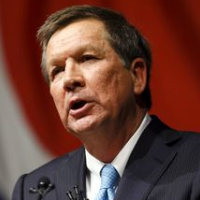 Ohio Governor John Kasich (AP photo)
Ohio Governor John Kasich is requiring any school that wants to participate in a new mentoring program for students to partner with a church or religious organization.
The new program comes with $10 million in funding coming from casino profits collected by the state, but school districts that don't comply with the parochial mandate won't see a dime of it.
The state rule also says schools must work with businesses as well as "a faith-based organization and a non-profit set up by a business to do community service," according to the Plain Dealer.
Schools cannot work with only a business and a nonprofit, the Ohio Department of Education says. If religion isn't included, the mentoring program at a school won't receive funding. "The faith-based organization is clearly at the heart of the vision of the governor," Buddy Harris, a senior policy analyst for the department, told the newspaper. He added that the state does "not foresee any proselytizing happening between mentors and students."
"That's not really what we're seeking," he added.
However, when the legislation was passed, there was no requirement that schools partner with faith-based organizations. "Eligible school districts shall partner with members of the business community, civic organizations, or (italics added) the faith-based community to provide sustainable career advising and mentoring services," the law reads. Kasich also failed to mention the faith-based requirement at the signing ceremony for the bill and in his executive order creating the advisory board. Instead, it mentions only "local networks of volunteers and organizations," according to The Plain Dealer.
A Kasich spokesman, Rob Nichols, said the governor believes "faith-based organizations play an important role in the lives of young people."
And Kasich remarked in a video made for those applying to the mentoring program that the "Good Lord has a purpose for each and every one of them (students) and you're helping them to find it."
-Noel Brinkerhoff, Steve Straehley
To Learn More:
Schools Need A Religious Partner If They Want Any of Gov. Kasich's Student Mentorship Money (by Patrick O'Donnell, Plain Dealer)
Ohio Unveils Mentoring Program At Lima Stop (by Megan Kennedy, LimaOhio.com)
Ohio Governor Accused of Covering Up Role in Promoting Fracking in State Parks (by Noel Brinkerhoff, AllGov)