Guinea's Ambassador to the United States: Who Is Mamady Condé?
Saturday, December 13, 2014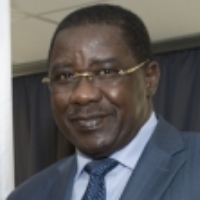 Mamady Condé, his country's former foreign minister, presented his credentials as Guinea's ambassador to the United States to President Barack Obama on July 14, 2014.
Condé was born November 28, 1952, in Siguiri, Guinea. He received a degree in history and philosophy from the University of Kankan in Guinea in 1976. He went into broadcasting, working as a presenter, director and editor at Guinea's radio and television network. In 1988, Condé was named ambassador to Algeria and Tunisia. While he was in this post, two of his children were born in Algeria. Condé was transferred to Beijing in 1996 as ambassador to China, Vietnam, Cambodia and Laos.
He came home in 2000 to serve as his government's minister of communication. He acted as government spokesman and worked to establish mobile phone service and satellite television in Guinea. Condé was named foreign minister in 2004, serving until 2005, and then taking up the post again in 2006. During his second term, Condé signed a treaty with South Korea, initiating ambassador-level relations between the nations for the first time, the last African nation to do so. Guinea had exchanged ambassadors with North Korea as early as 1960.
In 2013, Condé was named Guinea's ambassador to Italy, serving until early 2014. He then came home briefly to be deputy head of administration, with control over major projects.
Condé is married to Odya K. Condé. One of their children, daughter Zenab, attended UCLA.
-Steve Straehley
To Learn More: