Rectal Feeding, Chaining Diapered Detainees to the Ceiling, Torture of 26 Wrongly Imprisoned…Is This What Americans Do?
Thursday, December 11, 2014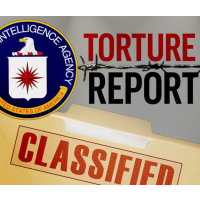 (AP graphic)
The legacy of torture and humiliation stemming from the Central Intelligence Agency's (CIA) secret rendition program last decade got even darker this week with the release of more details about the treatment of detainees.
The publishing of a Senate committee report on the CIA's interrogating methods revealed some gruesome facts about how suspected terrorists—and those mistaken for such—were treated.
In fact, 26 of the 119 detainees held by the CIA were individuals who did nothing wrong and were not involved with al Qaeda. One was Abu Hudhaifa, who endured ice water baths and more than 60 hours of standing without being allowed to sleep.
Gul Rahman, a "suspected Islamic terrorist," died after being forced to sleep without pants on a cold concrete floor, according to The Guardian. An autopsy showed he probably died of hypothermia.
Other detainees were subjected to "rectal feeding and rectal rehydration," even when cooperating with normal feedings. Five men were put through this grisly procedure that damaged their rectums and colons and left food in their digestive tracts, among other problems. In some cases, "excessive force" was employed during rectal feedings.
Mustafa al-Hawsawi suffered anal fissures, chronic hemorrhoids and symptomatic rectal prolapse as a result of this treatment.
President George W. Bush was said to have "expressed discomfort" when told about one detainee, said to be Ridha al-Najjar, who was "chained to the ceiling, clothed in a diaper, and forced to go to the bathroom on himself."
-Noel Brinkerhoff
To Learn More:
USA and Torture: A History of Hypocrisy (Human Rights Watch)
The 10 Most Harrowing Excerpts from the CIA Interrogation Report (Washington Post)
Rectal Rehydration and Standing on Broken Limbs: The CIA Torture Report's Grisliest Findings (by Dominic Rushe, Ewen MacAskill, Ian Cobain, Alan Yuhas and Oliver Laughland, The Guardian)
Senate Committee Accused of Failing to Interview Men Tortured by CIA for its Torture Report (by Noel Brinkerhoff, AllGov)
Still Secret Report Accuses CIA of Fighting White House, Congress and its own Inspector General to Hide Torture Details (by Steve Straehley, AllGov)
Obama Refuses to Turn Over 9,400 CIA Torture and Interrogation Documents to Congress (by Noel Brinkerhoff, AllGov)