Montana Legislature Warns Women Members to Watch their Necklines and Skirt Lengths…and No Jeans
Tuesday, December 09, 2014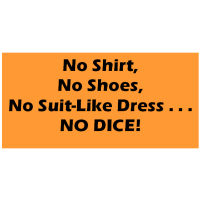 (graphic: Steve Straehley, AllGov)
Women serving in the Montana House of Representatives have been instructed by Republican leaders to dress conservatively.
The chamber's new dress code informs women appearing on the House floor to be "sensitive to skirt lengths and necklines." Furthermore, they must only wear "business formal" attire, defined as "a suit or dress slacks, skirt, jacket, and dress blouse or suit-like dress and appropriate shoes (flip flops, tennis shoes, and open-toe sandals are not considered appropriate)." And forget about leggings because they "are not considered dress pants."
As for men, their "business formal" is defined "as a suit, or dress slacks, jacket, tie, dress shirt and dress shoes or dress boots." (Yes, boots. It is Montana after all.)
But it's not only the lawmakers who must abide by this dictum. The order states that the code also applies to members of the legislative staff, aides, interns, and even members of the media.
Leaders of the House appointed themselves, along with the leadership of the state Senate, to enforce these rules and to notify members who are in violation. It certainly compounds the matters of state that presumably already fill the plate of every Montana legislator.
By the way, for anyone who may not have guessed, the dress code clearly points out that there are absolutely "no casual Fridays or Saturdays."
-Noel Brinkerhoff, Danny Biederman
To Learn More:
Floor Session Dress Code 64th Legislative Session (Montana House of Representatives)
GOP Also Decrees: Don't Get Caught in Fleece, Jersey, or Open-Toed Sandals (Cowgirl Blog)