New Claims for Unemployment Insurance Drop to 14-Year Low
Tuesday, November 11, 2014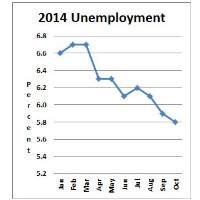 (graphic: Steve Straehley, AllGov)
The unemployment picture in the United States continues to get rosier despite some historical lows in key employment indicators.
The good news, according to the Department of Labor, is the average number of new unemployment claims reached a 14-year low according to a report (pdf) last week.
The "4-week moving average was 279,000 [claims]," the Labor Department announced. "This is the lowest level for this average since April 29, 2000 when it was 273,000."
Overall, the nation's jobless rate remained at 5.8%, which is the lowest it's been since July 2008, when the Great Recession was just beginning to swallow the economy.
Although the unemployment rate has gone down considerably from a high point of nearly 10%, many, many Americans are still sitting at home waiting for job opportunities, Gene Epstein wrote at Barron's.
"The overall labor force participation rate ran 62.8% in October, barely higher than its 36-year low of 62.7% in September," Epstein said. "More significantly, the participation rate of prime-age men 25 to 54 remained at its 66-year low of 87.9% in October, down from 90.4% as recently as October 2008." There are also still many people who are working part-time, but would like to work full-time. Epstein attributed some of this to the Affordable Care Act, writing that because the ACA requires full-timers to get insurance, employers of part-time workers might not be transitioning them to full-time employment at the usual pace.
-Noel Brinkerhoff
To Learn More:
Unemployment Insurance Weekly Claims (Department of Labor) (pdf)
The Jobs Machine Chugs On (by Gene Epstein, Barron's)