Attorney General of the United States: Who Is Loretta Lynch?
Monday, November 10, 2014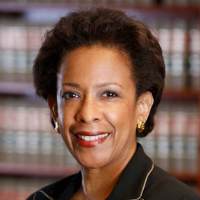 Loretta E. Lynch, a longtime U.S. Attorney for the Eastern District of New York, is President Barack Obama's choice to succeed Eric Holder as attorney general.
Lynch was born in Greensboro, North Carolina, in 1959, to Lorenzo and Lorine Lynch and moved with her family to Durham, North Carolina as a child. Her father was a Baptist minister, as was his father. Her mother was a farm worker who became a librarian. Lynch attended a mostly white elementary school, and when she once scored well on an achievement test, school officials made her retake the test because they assumed she had cheated on it. She did as well the second time. Lynch graduated from Durham High School in 1977 and went to Harvard, where she earned a B.A. in English and American Literature in 1981. She remained in Cambridge to attend Harvard Law, receiving her J.D. in 1984. Lynch began her legal career in private practice as a litigation associate for the firm of Cahill Gordon and Reindel in New York.
In 1990, Lynch joined the office of the U.S. Attorney for the Eastern District of New York, which is responsible for prosecuting federal crimes in the New York boroughs of Brooklyn, Queens and Staten Island and in Nassau County (Long Island). One of her most noteworthy cases was the prosecution of the Green Dragons, a Chinese gang that was convicted of racketeering and murder. Lynch was named chief of the Long Island office in 1993 and served there until 1998, when she was named chief assistant U.S. attorney.
Her most prominent case while there came when she helped prosecute New York City policeman Justin Volpe, who had been among those involved in the 1997 assault and forcible sodomization of Haitian immigrant Abner Louima. Midway through his trial in 1999, Volpe pleaded guilty and was sentenced to 30 years in prison.
Later that year, President Bill Clinton appointed Lynch to be U.S. attorney for the Eastern District. She served only two years before being replaced by a George W. Bush appointee in 2001.
Lynch then returned to the private sector, joining the New York firm of Hogan & Hartson (now Hogan Lovells) as a partner. She focused on commercial litigation, white-collar criminal defense and corporate compliance. In 2003, Lynch was appointed a Federal Reserve director with jurisdiction over the Second Federal Reserve District. She also served in 2005 as an investigator for the International Criminal Tribunal for Rwanda and conducted a special investigation into allegations of witness tampering and false testimony at the tribunal.
In 2010, Lynch was again appointed to serve as U.S. attorney for the Eastern District of New York. She led the prosecution for embezzlement of former New York state senate majority leader Pedro Espada Jr. Her office filed charges in 2013 on a $45 million cyberattack on ATMs, made arrests this year in the 1978 Lufthansa heist at Kennedy Airport, dramatized in the movie Goodfellas, and is now prosecuting Rep. Michael Grimm (R-New York) for tax fraud. Despite the indictment, Grimm was easily re-elected to Congress in the 2014 general election.
In 2007 Lynch married Stephen Hargrove, and she has two stepchildren. One of her brothers, Leonzo, followed their father into the ministry, the other, Lorenzo Jr. who died in 2009, served as a Navy Seal.
-Steve Straehley
To Learn More:
The Republican Senate Will Love Loretta Lynch (by Carl Gibson, Reader Supported News)
A Low-Profile Prosecutor (by Sean Gardiner, Wall Street Journal)