Administrator of the Food and Nutrition Service: Who Is Audrey Rowe?
Sunday, November 02, 2014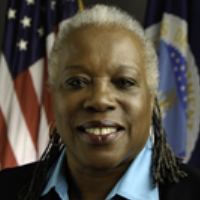 Audrey Rowe became the administrator of the U.S. Department of Agriculture's Food and Nutrition Service on April 1, 2011, after serving as deputy administrator for the department's Special Nutrition Program since the start of President Barack Obama's administration.
Rowe was born November 4, 1946, in New York City and grew up in the Flushing area of that city. Her father was a television repairman and her mother owned a children's clothing business. Rowe attended Flushing High School and was a member of the yearbook staff before graduating in 1964. For a time, she was a caseworker for the NAACP and worked for other civil rights organizations before going to Washington, D.C. and attending Federal City College. She earned a B.A. in 1971.
Rowe became active in politics and in 1973 was elected vice chair and in 1975 chair of the National Women's Political Caucus. She subsequently joined the administration of Washington Mayor Marion Barry, first in 1979 as special assistant for youth affairs. The following year, Rowe was put in charge of the city's Social Services Commission. She served as acting commissioner during the period after The Washington Post printed a Pulitzer Prize-winning story, later retracted, about an 8-year-old heroin addict. The Social Services Commission was caught up in the search for what turned out to be a fictional character. Rowe was named commissioner in 1981 and served in that role until 1987, when she was named Barry's special advisor on human resource development. She left the administration in 1988.
Rowe was an equal opportunity consultant for The Rockefeller Foundation for a bit more than a year before she was named to lead the city of New Haven, Connecticut's Human Resources Administration in 1990. The following year, she took over Connecticut's Department of Income Maintenance, which in 1993 merged into the Department of Social Services, also led by Rowe.
She resigned in 1994 to run for lieutenant governor on the A Connecticut Party ticket. The party had put the previous governor, Lowell Weicker, in office and Rowe's running mate Eunice Groark had been Weicker's lieutenant governor. However, the Groark-Rowe ticket finished third in the running.
In 1995, Rowe was named executive vice president of the National Urban League. She served with the civil rights organization until 1997 when she moved into the private sector with Lockheed Martin's IMS subsidiary. Rowe became senior vice president and managing director of the aerospace giant's division that created electronic systems to manage Electronic Benefit Transfer projects and child support payments. That division was acquired in 2001 by Affiliated Computer Services and Rowe was named senior vice president of public affairs for that company.
She branched out on her own in 2005 with AR Consulting, where she worked on human services issues and joined the USDA shortly after Obama's election.
Since taking over the Food and Nutrition Service, Rowe has helped institute menu changes in school lunches that emphasize healthier foods, including more fruits and vegetables and less whole milk. She has also promoted summer lunch programs for needy students who might not otherwise get a real meal when school's out.
Rowe was a fellow at Harvard's John F. Kennedy School of Government. She wrote "The Feminization of Poverty: An Issue for the 90's" for the Yale University Journal of Law and Feminism in Fall 1991.
-Steve Straehley
To Learn More: